£370,000 invested in new multi-disciplinary crime research centre
Fri, 12 Feb 2016 13:37:00 GMT
The new Secure Societies Institute will work in fields including forensic science, terrorism, cyber security, child sexual exploitation and ballistics

RESEARCHERS with world-class expertise in a diversity of fields – including forensic science, child sexual exploitation, ballistics, terrorism and cyber security – will now work more closely and productively together, following the launch of a new institute at the University of Huddersfield. The goal is to make major breakthroughs in crime prevention and detection, and develop innovative solutions to global security challenges.
The new Secure Societies Institute (SSI), based in the University's 3M Buckley Innovation Centre, is headed by Professor Rachel Armitage, (pictured right) a criminologist who has published extensively in areas that include 'designing out' crime. She saw the need for a new research unit that could draw on the depths of knowledge to be found in all of the University's seven academic schools.
"Working across the schools makes the research so much better," said Professor Armitage, who added that the SSI's remit would be to conduct high-impact, multi-disciplinary research addressing some of the grand challenges facing society.
For example, experts in cyber-crime within the School of Computing and Engineering could collaborate with specialists in psychology and criminal investigation, leading to greater understanding of how individuals make sense of incomplete data; and criminology experts from the School of Human and Health Sciences would work with product design lecturers and students from the School of Art, Design and Architecture to come up with innovative solutions to the problems of shoplifting and household burglary.
The new Institute has been established by financial awards totalling more than £370,000 from the University's own Research Fund. Now it will draw up bids for research funding from major bodies, including the EU's Horizon 2020 framework.
‌The SSI is to be officially launched on 17 March at a special event at the University. High-profile guests and speakers will include Angela Gallop, who is chief executive of the firm Forensic Access; the Police and Crime Commissioner for West Yorkshire, Mark Burns-Williamson; former West Yorkshire Chief Constable John Parkinson; plus Lord Carlile, one of Britain's top legal experts, who will deliver the closing presentation.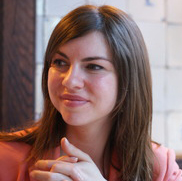 During the day of the launch there will also be a series of discussion panels covering topics such as terrorism, forensic science and slavery and exploitation, with university experts discussing their research in these topics.
The SSI has appointed Dr Dagmar Heinrich (pictured right) as its research fellow. She has a background in forensic anthropology and crime science. Her PhD analysed the utility of forensic evidence in homicide cases.
She and Professor Armitage will be joined by a senior research fellow plus two PhD students, with a background in computer science, to aid research into cyber-crime. In addition, they will also be recruiting three PhD students to address the grand challenges that will be addressed at the launch of the Institute.