Town's music heritage becomes a tourist trail courtesy of the Uni
Tue, 13 Dec 2016 11:50:00 GMT
The Music Trail was created by students on behalf of DISCOVER Huddersfield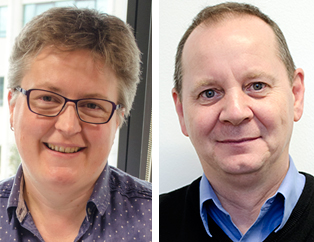 ► Professor Rachel Cowgill and Professor Paul Ward
HUDDERSFIELD residents and visitors will be able to take a musical tour of the town courtesy of a brand new heritage guide created by the town's students.
The town's community-led organisation, DISCOVER Huddersfield, were approached by the University of Huddersfield with the idea of a musical trail. DISCOVER Huddersfield, who produce a range of walks and talks for the public to delve into the town's history, beauty and heritage, warmly accepted.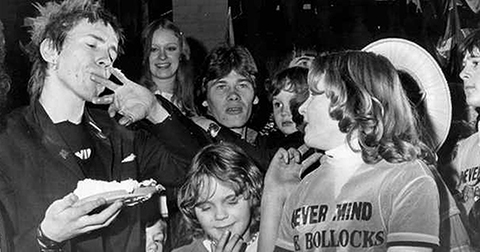 ◄ Sex Pistols's frontman Johnny Rotten at the former Huddersfield nightclub Ivanhoe's
Now, the University's departments of History and Music have come together to create a trail which takes in the town's musical traditions.
Professor Paul Ward, Head of History, English, Languages and Media and Professor Rachel Cowgill, Head of Music and Drama, oversaw the students who researched Huddersfield's rich and varied past and came up with a Music Walk. The academics were helped by history students Albert Preston and Ciaran Lourdes-Binsley, and textile practice student Sarah Wells in the School of Art, Design and Architecture.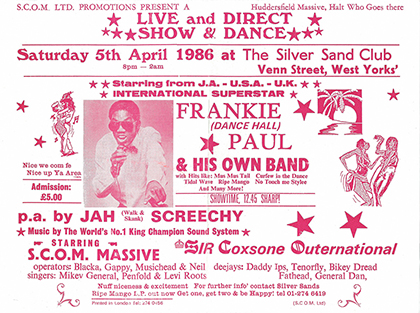 The musical trek begins at St Peter's Parish Church, where the resident organ was built in 1908, and then continues around the town, going past former nightclub Ivanhoe's, where the Sex Pistol's gave their last UK performance in 1977. It carries on through the Town Hall into the University's archive centre Heritage Quay, which is open to the public and includes the British Music Collection.
After stopping off at The Hippodrome, which was opened in 1905 by music hall performer Vesta Tilley, the walk comes to a close at the Venn Street Reggae Clubs – now demolished – which showcased international stars such as Gregory Issacs, Freddie McGregor and Millie Small.
"This has been a great process for the students," said Professor Ward. "We're really pleased with how this research is layered and that the students have been given the opportunity to take part in community-based learning.
"We very much try to close the circle between our research, community engagement, the impact of research and our students, and this project has done just that."
Other trails including Caribbean Heritage, Transport Heritage and Ramsden Heritage and others are on display in the Huddersfield Library or can be downloaded online.