The Ted Hughes Network launches with celebrated poets
Wed, 21 Dec 2016 09:39:00 GMT
Poets Christopher Reid, Ian Parks and Carola Luther join the University's Dr Steve Ely for the launch
THERE were insights into the personality, the poetry and the writing techniques of Ted Hughes (pictured right) – including his eccentricities of spelling and syntax – when the University of Huddersfield launched a network dedicated to researching and commemorating the Yorkshire-born ex-Poet Laureate.
There were also readings by leading contemporary poets who have been influenced by Hughes and who live in the twin districts – the Calder Valley and South Yorkshire – where he spent his boyhood and which helped shaped his poetry.
‌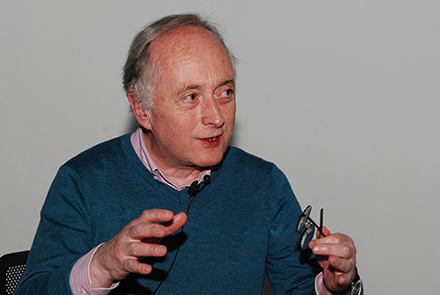 A special guest at the official launch of the Ted Hughes Network was the eminent poet Christopher Reid. As an editor at the firm Faber and Faber in the 1990s, he worked closely with Ted Hughes on some of his last works and later edited the letters of Hughes for publication, after his death in 1998.
The network launch took place at the University's Heritage Quay archives centre, and it culminated in a conversation between Christopher Reid (pictured left) and Dr Steve Ely, a poet, novelist, and biographer and lecturer in creative writing at the University, where he directs the new Ted Hughes Network.
Mr Reid said that it had been a "thrill and honour" to edit the work of Hughes.
"It was also remarkably easy. Not that Ted Hughes turned in perfect poems. He turned in great poems that occasionally required editorial tinkering."
Before meeting Hughes for the first time, Mr Reid had heard myths and rumour about the poet's personality
"They were entirely misleading. He was completely approachable, without any pomposity or side. He engaged you directly in conversation and I have never met anyone who had the same aptitude for drawing you into his attention as he talked."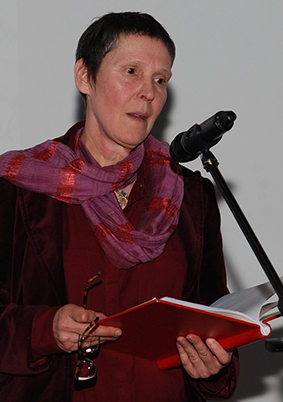 Christopher Reid said that Hughes could be "fairly wayward" in his spelling, his punctuation, his syntax and when it came to editing his letters – for a volume published in 2007 – he allowed the spontaneity to remain.
But he told how, several years' earlier, the draft of Ted Hughes's long 1997 poem Tales from Ovid displayed similar idiosyncrasies in punctuation and syntax. This time they were sorted out, with the poet's permission.
"I have slightly regretted it ever since," said Mr Reid, "because I know that some of the vitality of the letters comes from those oddities. I wish I could have seen a way of retaining that in Tales from Ovid. Maybe that was a case where editorial meddling wasn't an improvement."
Christopher Reid included recitations of some of his own poems and earlier there had been readings from Ian Parks, a leading poet who was born and lives in Mexborough, where the young Ted Hughes moved with his family in 1938.
‌There were also readings from Carola Luther (pictured left), a South Africa-born poet who now lives in the Calder Valley, where Hughes was born in 1930. The fact that the University of Huddersfield is located equidistantly between Mytholmroyd and Mexborough is one reason that it is an ideal home for the new Ted Hughes Network.
Carola Luther told how Ted Hughes's "visceral evocation of creature and landscapes" had influenced her in South Africa and when she relocated to the Calder Valley she recognised it immediately from Hughes poems such as Remains of Elmet, Crow and Hawk in the Rain.
At the start of the launch event, Dr Steve Ely described the aims of the new Ted Hughes Network, which works closely with organisations such as The Ted Hughes Society, The Elmet Trust and the Ted Hughes Project (South Yorkshire). One goal is to secure funding for a Yorkshire-wide Ted Hughes Literary and Heritage Trail.
In June 2017, there is to be an international conference at the University titled Ted Hughes & Place and in 2018 there is to be a Ted Hughes and Creative Writing Symposium. In March 2017, Ted Hughes's Gaudete is to be performed at Huddersfield's Lawrence Batley Theatre and Dr Heather Clark, a leading scholar of Ted Hughes and his poet wife Sylvia Plath, has been appointed a Visiting Professor for the summer of 2017. She will dwell in the Mytholmroyd birthplace of Hughes and work on her new biography of the husband-and-wife poets.