The Jazz Room
Tue, 13 Dec 2016 02:00:00 GMT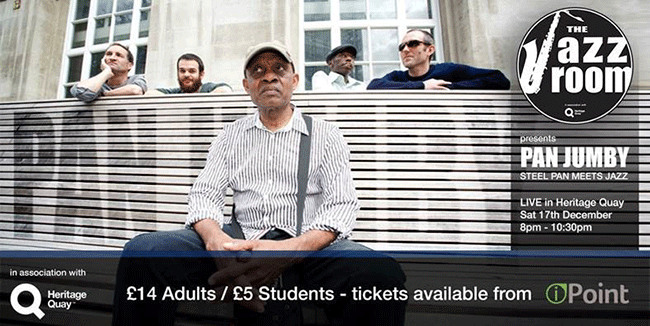 Come join in The Jazz Room on Saturday 17 December where Huddersfield Jazz is proud to present the fabulous Pan Jumby.
Coming back to his roots in Huddersfield steel pan player Dudley Nesbit joins fellow band mates Richard Ormrod (Saxophone, Clarinet, Flute & Accordion), Barkley McKay (Keyboard & Electric Guitar), Kenneth Higgins (Electric Bass) and Sam Hobbs on Drums for an evening of music from the Caribbean, featuring influences from the world of Jazz, Calypso and Soca alongside choice standards that speak to the Trini aesthetic.
Accolades:
"A barn storming way to end our summer concert season with the calypso/jazz sounds of ace steel pannist, Dudley Nesbitt with Richard Ormrod on sax and the Pan Jumby band – Sam Hobbs drums, Barklay McKey keyboards, Kenny Higgins bass." – Seven Jazz, Leeds
"Nesbitt, an exceptional and unflagging advocate for the art and culture of the steel pan, leads a blend of modern calypso, Caribbean rhythms, Rumba and Cha Cha, channelled through the versatile vocabulary of jazz." – JazzNorth.org
The event is open to members of the public, staff and students. Tickets cost £14 for staff and members of the public. Students can purchase tickets for £5. Tickets are available from the iPoint reception during opening hours. Full bar facilities will be available on the night.
Venue: The Jazz Room – Heritage Quay
Date: Saturday 17 December 2016
Start Time: Doors open at 7.30pm with a start time of 8.00pm
Finish Time: 10.30pm