Staff Travel Survey 2016
Thu, 15 Dec 2016 01:40:00 GMT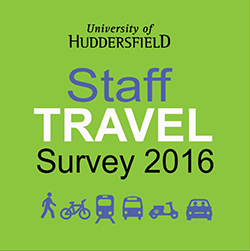 Please take part in the 1-minute travel survey and win Amazon vouchers.
Whether you travel to campus by pedal power, train, or car, please take one minute to complete the University travel survey.
Your responses will help shape the new version of the Travel Plan and determine how resources are used to improve your travel options, so it is important that you take part as future decisions could affect you.
15 staff and students who complete the survey will have the chance to enter a prize draw to win a £20 Amazon voucher.
Complete the survey here.
The survey is open from Monday 5 to Friday 16 December 2016.
To find out further information email sustainability@hud.ac.uk