Qatari Cultural Attaché welcomed to celebrate Qatari National Day
Tue, 20 Dec 2016 11:45:00 GMT
600 attended the event organised by the University's Qatari Student Society
THE Qatari Student Society showcased their country's traditions with over 600 UK, European and International students celebrating their National Day.
This much-anticipated event saw the attendance of VIP guest Qatari Cultural Attaché Dr Mohammed Al-Kaabi.
The event took place in the University's Sports Hall where people could have their hands decorated with henna, look through Qatar's history and traditional food was on offer for all to enjoy.
Qatari students attended in traditional dress and chatted to people about the cultural displays exhibited around the hall. Later, the Qatari students displayed their native talents when they took part in the country's traditional sword-dancing. For many students attending, this was their first true taste of Arabic culture.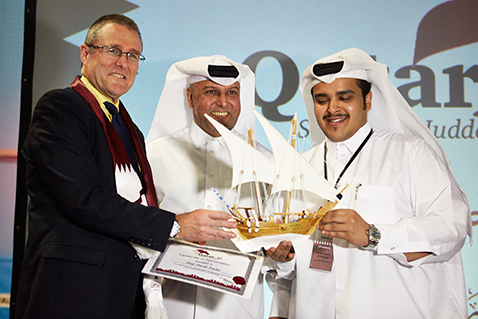 ◄ The University's Pro Vice-Chancellor, International, Professor Dave Taylor (left) with the Qatari Cultural Attaché Dr Mohammed Al-Kaabi (centre)
The Qatari Student Society are very active on campus and participate in two of the University's larger events including the International Food and Culture Festival and Arabic Day both taking place in the New Year.
Romanian student Roxana Dumitrascu said it was great to see all of the different cultures together and how proud she was that the University's International Office sponsored such events.
Representatives from the University's International Office visit Qatar's capital city Doha annually for promotional and recruitment activity and work closely with the Middle-East office and country representative Anastasia Furman.
‌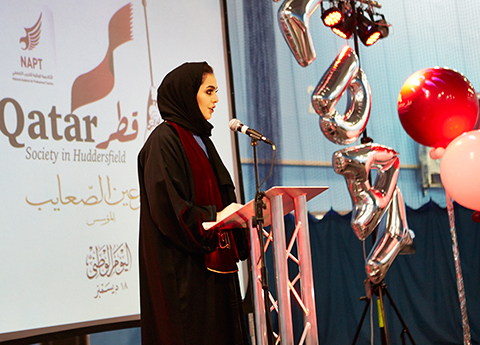 ‌Alan Tobi, the University's International Student Experience Manager, offered his thanks to the Qatari Student Society for such a successful event.
‌"It is very important that our students from around the world have the opportunity to represent themselves on campus, to promote a culture of friendships and understanding around the University," he said.
"We were delighted to see all our students on campus come along to the event and engage with Middle-Eastern traditions, many of whom will be unfamiliar with Qatari culture. We were also very pleased to welcome Qatari embassy members to the event who are always delighted to see their student's professionalism and hard work," he added.
The International Office works closely with the University's international student societies to promote inclusion through activities and representation for all students and staff to get involved with. These events are free to attend and open to all.
Upcoming campus events are the hugely successful Spring Festival celebrations on Friday 3 February and International Week which takes place week commencing 27 February.