Polly Toynbee's lecture – Brexitland: Press and Politics Today
Thu, 08 Dec 2016 12:47:00 GMT
Leading political journalist Polly Toynbee‌ gives her take on 'Brexitland', Theresa May and the Daily Mail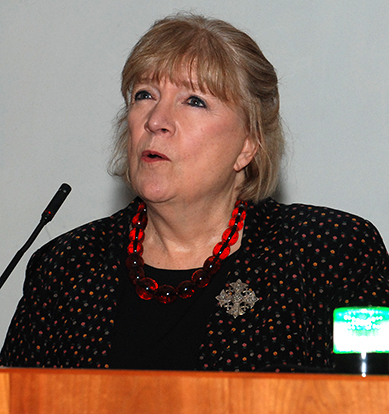 THE Brexit vote has shattered Britain and created unprecedented divisions, according to leading political journalist Polly Toynbee (pictured) when she inaugurated a new series of lectures at the University of Huddersfield.
A writer for the left-leaning Guardian newspaper, she argued that it was Britain's "overwhelmingly right-wing press" that played a key part in swinging the referendum vote towards leaving the EU.
"Eighty-five per cent of newspapers sold are not just mildly Tory, but extreme," she stated. "And Europe in recent years has been their battle flag."
The talk – which drew a large audience – was titled Brexitland: Press and Politics Today and was the first of a new annual series of journalism lectures at the University.
‌Ms Toynbee began by analysing the implications of the Brexit result.
"The whole political scene is shifting. We are seeing one of those once-in-a-century moments of upheaval when the old political certainties change, when old parties dissolve and reform into new shapes. New alliances build and old ones crumble.
"Brexit has really taken over every other political question," she continued. "Nothing comes close, not even the near collapse of the NHS. There is something new about the Brexit issue. It is visceral. It's about identity. Which side you are on at the moment seems to say who you are, where you belong."
She confessed that she found the politics of Brexit "deeply perplexing" and as a lifelong social democrat it was difficult for her to understand why the issue of Europe – which had hitherto been a very low political priority for most people – should have become a focus for protest, rather than the state of the economy and society.
It was when Brexit morphed into a debate about immigration that the issue was transformed, said Ms Toynbee. Even this was a surprise, as Britain had actually taken far fewer refuges than other European countries.
"So why is England exceptional? Why do voters tolerate growing social injustice? Why turn rightwards so often in voting habits?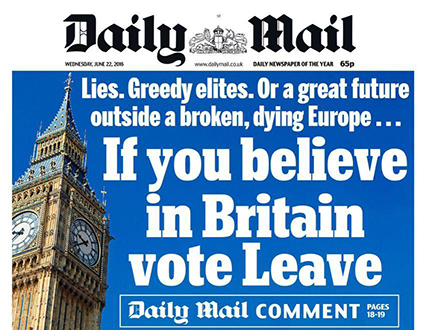 "I have to conclude that one of the things exceptional about Britain as opposed to the rest of Europe – which is far more social democratic and social justice-minded – is the great power of our one sided media and the power that it plays in social, cultural and psychological life and has done for just about a century."
The centrepiece of Polly Toynbee's lecture was a denunciation of the Daily Mail, its editorial policies and its political influences, which had played a part in "neutering" the BBC during the Brexit campaign, she alleged. She concluded this section by displaying copies of Daily Mail headlines, culminating in a triumphalist front page on the day of the referendum result.
"But the people have spoken. No matter what damage it does as it drags on and drags our standard of living even further down, Brexit is where we are heading," said Ms Toynbee, who finished with an analysis of the dilemmas facing Prime Minister Theresa May (pictured). Would she go for a Soft Brexit, with its compromises? Or would it be a Hard Brexit "that risks the economy falling off what she herself has called a cliff edge".
"We are passengers, standing at the departure gate. We have got the boarding passes. But the pilot refuses to tell us where we are going. We have no destination. What assurance have we that we are not going to crash?" asked Polly Toynbee, who alleged that the Prime Minister did not dare say what her intentions were because her own Cabinet is so bitterly split.
Polly Toynbee was introduced by University of Huddersfield Senior Lecturer Dr Stephen Dorril, an author and journalist himself, who paid tribute to the guest speaker's social conscience and "forensic research skills".