Huddersfield fashion designs receive Royal approval from Princess
Wed, 21 Dec 2016 10:19:00 GMT
Princess Beatrice praises Royal designs by fashion students Celine Constantinides and Amy Bean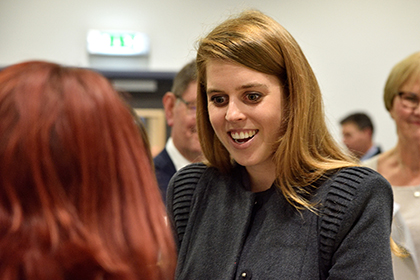 TWO talented University of Huddersfield students have created clothes that are fit for a princess. And now a princess has seen their designs and immediately announced plans to enlist her royal sister to join her for a fitting session.
HRH Princess Beatrice paid a special visit to the University to see the creations designed and made up by Amy Bean and Celine Constantinides, who are in the second year of their Fashion Design with Textiles BA course. Celine has designed an outfit for Beatrice herself and Amy's dress is for her sister Princess Eugenie.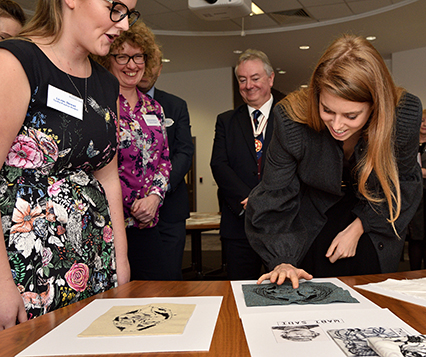 The creations are the result of a visit to the University made earlier in 2016 by the princesses' mother Sarah, Duchess of York, who was shown a portfolio of designs by students for outfits her daughters could wear at an event such as London Fashion Week. It was a special first-year project.
‌The Duchess was impressed by the range of ideas in the portfolio and took it away to show her daughters. Word came back that the creations of Amy and Celine had found royal favour, so the two students set to work and turned their designs into reality.
The two dresses – complete apart from some finishing touches – were on display when Beatrice came to the University.
Celine, who is from Clitheroe, has a passion for Gothic styles and as a reference to the fact that Beatrice's father is the Duke of York, she sought inspiration from the medieval stained glass of York Minster in order to create a design printed on to the skirt of her outfit.
Her research led her to contact the authorities at the Minster, who were especially helpful, supplying pictures, said Celine. When Princess Beatrice saw the designs she immediately recognised the source. "It's a phenomenal window!" she said.
Amy Bean – who is from Halifax – created an outfit for Princess Eugenie. It is a predominantly dark blue dress and velvet jacket, with a skirt that features her own designs, inspired by cherry blossom. This reflects her fondness for floral patterns. Princess Beatrice pored over Amy's designs too.
And then the actual dresses were unveiled, to the Princess's delight. "These are fantastic!" she said. "Each dress is unique. This is so cool."
She then told Amy and Celine that in the New Year she would plan a return visit to the University, this time accompanied by Princess Eugenie, so they could inspect and try on the outfits.
‌Alongside Amy and Celine at the unveiling were their fashion design lecturer Stephanie Price and fashion technicians Kimberley Clarkson and Helen Turner, who had helped make up the dresses. Selecting the special fabrics for the outfits had meant a trip to a high-end supplier in London.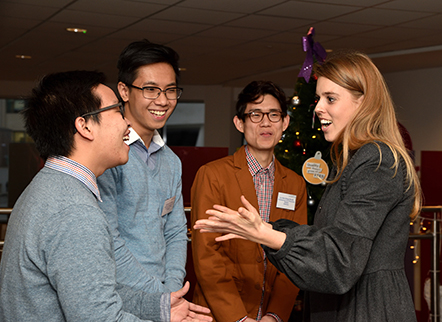 During her visit, Princess Beatrice was escorted by the University's Vice-Chancellor, Professor Bob Cryan, in his capacity as Deputy Lieutenant of West Yorkshire. The Princess's father, the Duke of York, is Chancellor of the University.
‌Before her encounter with Amy and Celine, Princess Beatrice also met a sequence of students taking a range of fashion, textile and design courses at the University's School of Art, Design and Architecture. She took a detailed interest in the portfolios and projects of Emma Lucas, Lorna Hampton-Bowes, Sadie Goode, Gemma Newsome, Lauren Stewart and Emily Muir.
Christopher Himlin – studying fashion and textile buying management – described his group project on sourcing from Vietnam; and fashion communication and promotion student Ana Zuravliova showed a copy of a glossy magazine she and fellow students had created, aimed at high-powered career women.
The Princess concluded her second visit to the campus by meeting a number of the University's international students, many of whom will not be returning home over the festive period.
Before signing the visitor's book, the Royal visitor was presented with a sample of the flavoured liqueurs made by entrepreneurial former Huddersfield student Stephen Bond, whose business is named Panda's Kitchen.