Heritage Quay welcomes its artist-in-residence
Wed, 14 Dec 2016 11:49:00 GMT
Multi-media artist Poulomi Desai takes up residence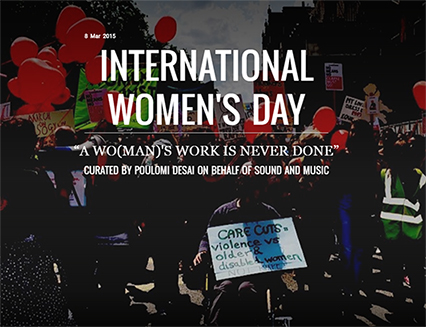 THE University of Huddersfield's award-winning Heritage Quay gives a lie to the old image of archives as dry and dusty places. But if there is any dust to be found in its highly varied collections, multi-media artist Poulomi Desai could make good use of it.
In her projects, which involve, music, words, pictures, performance and much else besides, Poulomi works with experts in some unexpected fields – such as bacteriologists. Among her unusual and provocative past projects was one that involved growing mould and bacteria on the surface of pictures.
"I am hoping also to work with a bacteriologist here, perhaps taking dust from some from some of the objects in the archive and seeing what we can grow from it!" she said.
Other outputs from Poulomi's current involvement with Heritage Quay as an artist-in-residence might be slightly more conventional – such as a performance, an exhibition and short films – but at this stage she is investigating the collections of the archive, holding talks with students and researchers at the University and meeting a wide range of people in the wider Huddersfield community.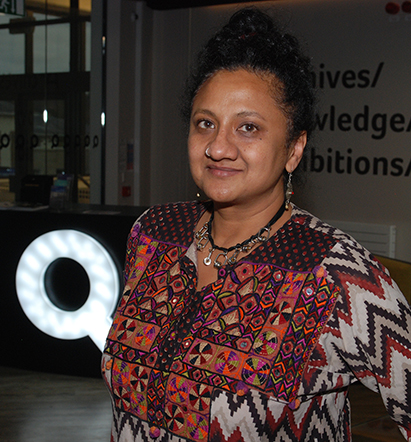 Her ideas and collaborations will then take shape, and in July 2017 Poulomi Desai's project with Heritage Quay will come to fruition.
It has received £14,970 from the Leverhulme Trust, and is also supported by Sound and Music, the national charity for new music. The award funds 70 days of Poulomi's engagement as artist-in-residence at the archive. She has now completed a first stint in Huddersfield, allowing her ideas to take shape.
"I have been finding more about the archivists who work here and the rituals of cataloguing and of actually looking after objects and what they mean to people," said Poulomi, who has made contact with students and lecturers in various subject areas, including music and textiles.
"The agreement was that rather than have me tied to a particular theme, I would allow serendipity to happen and through that I have begun to formulate a skeletal structure for what I want to try and create here."
Poulomi is London-born, to a family with a wide range of artistic and scientific interests. She was in her early teens when she set up the Hounslow Arts Co-operative in 1980, and 20 years later she established Usurp Art, to develop opportunities for communities to engage with artists, musicians, poets, filmmakers, activists, writers, performers and designers.
She has commissions and exhibitions at galleries and spaces in cities that include London, New York, and Kolkata. She has also published several books.
Poulomi previously curated an exhibition for the Google Cultural Institute and Sound and Music based on the British Music Collection held at Heritage Quay.