Great-Great-Grandson of Uni's founding father pays a visit
Fri, 09 Dec 2016 10:15:00 GMT
Sir Michael Swann, great-great-grandson of Huddersfield's Frederic Schwann, came to see where it all began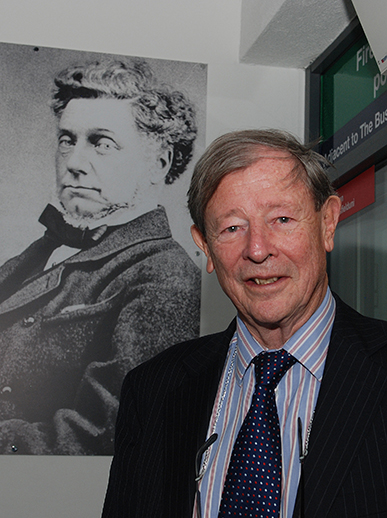 ► Sir Michael with his great-great-grandfather Frederic Schwann
SIR Michael Swann comes from a line of politicians, soldiers, businessmen and colonial administrators – all of them descended from a German immigrant who played a central role in establishing the University of Huddersfield.
But this was a dimension of his family's history that Sir Michael, a former army officer, knew little about until he received an invitation to pay a first visit to the town where his enterprising ancestor made such an impact.
It is a legacy that is freshly commemorated by the fact that the University's main building has been renamed the Frederic Schwann Building, in honour of the philanthropic local businessman who in 1841 established and supported the Huddersfield Young Men's Mental Improvement Society, later the Mechanics' Institution. It evolved into today's University.
"I got a letter saying that this is our 175th anniversary and one of your ancestors was very instrumental in establishing the University of Huddersfield. There's a building named after him. Why don't you come and see it?" said Sir Michael.
So he and his wife, Lady Marilyn, travelled from London to the town where Sir Michael's Frankfurt-born great-great-grandfather Frederic had relocated as an export merchant at the start of the Victorian period.
During his trip to the University, Sir Michael visited its Heritage Quay archive centre and was shown material relating to Frederic. "I shall be taking a lot more interest in this from now on," he said. "This is where it all started for our family in England. Frederic must have been quite a bright guy and full of confidence, coming here without knowing much English."
One of Frederic Schwann's sons was Charles Ernest, who was educated in Huddersfield before becoming a merchant in Manchester and then a long-serving Liberal MP for one of the city's constituencies. In 1906, he was created the 1st Baronet Schwann, of Prince's Gardens in the Royal Borough of Kensington. In 1913, on the eve of the First World War, when anti-German sentiment was already riding high, he changed the family name to Swann, obtaining a Royal Licence to do so.
Subsequent baronets and members of the family have therefore all held the name Swann and the link with Huddersfield and the textile trade link weakened over the generations. The second baronet was a journalist, lawyer and author, and the third – Sir Michael's father – was a serving soldier in World War Two and afterwards a commissioner and minister for defence in colonial Kenya, during the period of the Mau Mau risings and transition towards independence.
The fourth baronet, Sir Michael, was an army officer on a short-term commission and then served for 15 years with the Territorials, while also pursuing a career in insurance and as one of the General Commissioners for income tax.