Duo keep Hudds in National Teaching Fellows top spot
Wed, 07 Dec 2016 15:03:00 GMT
‌Dr Jess Power and Dr Jane Tobbell are two of the 55 recipients of this year's National Teaching Fellowships
TWO innovative academics at the University of Huddersfield have been made 2016 National Teaching Fellows. This ensures that the University retains its place as the UK's leading institution for this prestigious award.
Dr Jane Tobbell and Dr Jess Power are the latest recipients of Fellowships, awarded by the Higher Education Academy (HEA). Accompanied by a grant of £5,000, they are intended to "recognise, reward and celebrate" individuals judged to have made an outstanding impact on the student learning experience. The latest Fellowships mean that over the past nine years, the University of Huddersfield has had 14 award winners, more than any other university in the sector.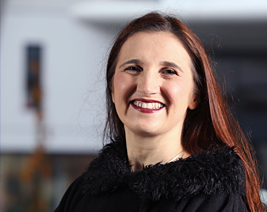 The HEA grants 55 fellowships every year to nominees who have demonstrated excellence in their field. The cash award is intended to support the National Teaching Fellow's further professional development.
‌Dr Power (pictured right) – whose academic and industrial background is in the field of textiles and clothing – joined the University of Huddersfield in 2012 as Director of Teaching and Learning in the School of Art, Design and Architecture. She currently holds the title of Reader in Textiles and Apparel. In 2014, she was awarded Senior Fellow of the Higher Education Academy for sustained excellence within teaching and practice.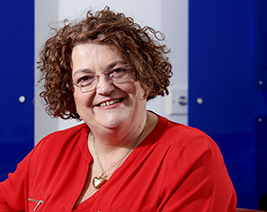 Her focus on interdisciplinarity has enabled her to transform the student experience by creating networks for students, staff and the commercial sector, who share common goals of transferring knowledge beyond the boundaries of their own disciplines, whilst developing employability and enterprising skills.
Dr Tobbell (pictured left) is a University Teaching Fellow in the Department of Behavioural and Social Sciences, where she leads a number of innovative teaching and learning projects. These include a responsibility for ensuring all students who desire it have access to a peer mentor; working with undergraduate psychology students in funded research projects to provide them with experience whilst doing their degrees; and leading the Education and Professional Development section of the Centre for Applied Psychology and Health Research.
She has worked in Higher Education since 1996 and her internationally-published research explores transition and learning in educational institutions. Dr Tobbell is currently working with student researchers to investigate what inclusion means to students. The data is being used to change practices to promote engagement and achievement.
The University's Pro Vice-Chancellor for Teaching and Learning, Professor Christine Jarvis, was delighted with the latest awards. "The National Teaching Fellowship competition recognises the very best and most innovative HE teachers in the country," she said. "Between 2008 and 2016, University of Huddersfield staff have won more National Teaching Fellowships than staff in any other university – a tribute to the quality of our staff and their dedication to students."