Bodypump 100 Fitness Class Marathon
Thu, 15 Dec 2016 09:30:00 GMT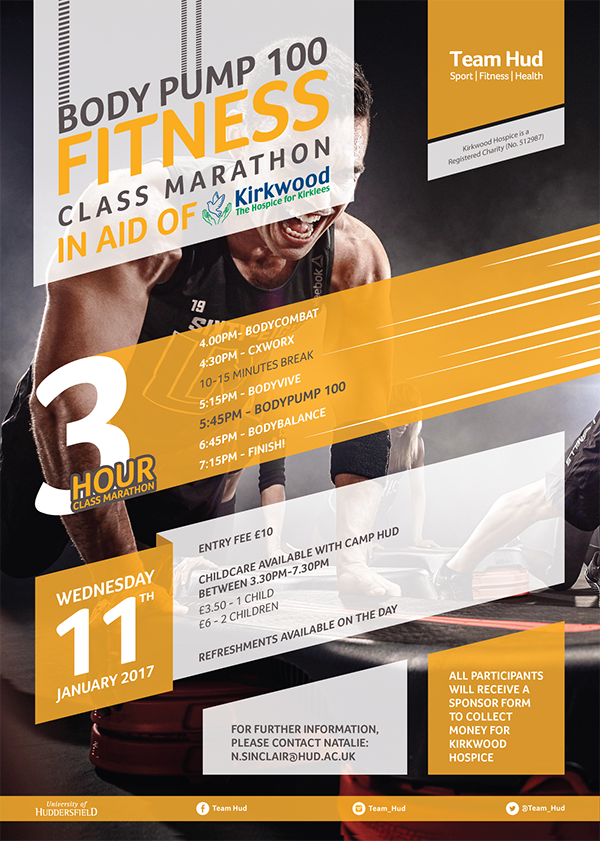 We will be hosting a spectacular 3-hour fitness class marathon on Wednesday 11 January 2017 to showcase the launch of Bodypump 100 along with numerous other Les Mills releases!
This event will be running in aid of Kirkwood Hospice where we aim to raise as much money as we can to support the services provided by the Hospice.
"Kirkwood Hospice provides specialist care, free of charge, to adults in Kirklees with advanced, progressive illnesses at any time from diagnosis to the end of life, respecting their individual needs and wishes. Care and support is also provided for their family members, friends and carers, both during the illness and after death."
Entry into the event is £10 per person, which will give you access to the event and also refreshments at the end. A sponsor form will be given to particpants.
We will be running a one-off special 'Camp Hud' for children from 15:30 - 19:30 for parents taking part to drop off their little ones. This will be an additional cost of £3.50 per child. Discounts may be given for multiple children, and we welcome all ages!
Everybody is invited to take part in this event - please encourage loved ones and friends to join you on this mission!
If you are interested in this event, please contact Natalie Sinclair on 01484 472093, or alternatively by email: n.sinclair@hud.ac.uk.