Award-winning research dispels myths around Economic Tyre Turning
Fri, 16 Dec 2016 11:26:00 GMT
Dr Yousif Muhamedsalih was named Best Young Researcher of 2016 by Rail Research UK Association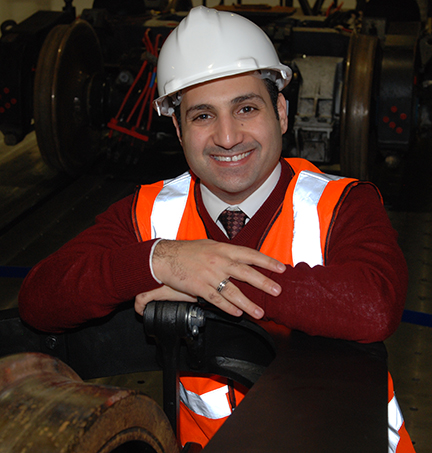 A PROJECT that could lead to major cost savings for UK rail operators has earned a prestigious award for a University of Huddersfield researcher.
Dr Yousif Muhamedsalih (pictured right), of the University's Institute of Railway Research, has been named Best Young Researcher of 2016 by Rail Research UK Association (RRUK), in tandem with the Institution of Mechanical Engineers (IMechE). Judges praised him for tackling "a problem that has been of interest to mechanical engineers since the railways began".
The problem is how to extend the life of railway wheelsets – how often and how much they can safely be reprofiled before they have to be scrapped and replaced. One approach is known as Economic Tyre Turning (ETT), described as "the process of turning wheels to a profile that has the same tread shape but a thinner flange, allowing less material to be removed from the wheel diameter".
The use of ETT can extend wheel life, especially as modern lathes are capable of the required precision – but current GB railway standards do not permit its use.
This was the background to the research conducted by Dr Yousif Muhamedsalih, Julian Stow and Dr Adam Bevan, and described by Dr Muhamedsalih in detail in a presentation for the 11th World Congress on Railway Research that took place in Milan, Italy.
‌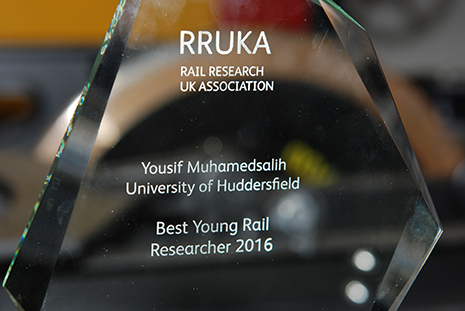 His research was undertaken by computer simulation and by carrying out tests on the iconic Pendolino trains run by Virgin Trains. Dr Muhamedsalih has concluded that ETT is not only safe, but it could have the ability to avoid the unnecessary costs in early replacement of wheelsets when they have significant remaining life. This could lead to changes in overhaul strategies, reducing costs to the rail industry.
‌Computer simulations were used to predict both the magnitude of wheel wear and the worn shape of the designed and re-profiled wheels and this provided data for in-service trials carried out by Virgin Trains after it had been given the go-ahead by the Rolling Stock Standards Committee.
It was in December 2015 that appraisal of ETT on a Pendolino began, when Alstom Transport had turned 20 axles on five vehicles to thin flange wheel profiles. Trials continued until March 2016, after the train had covered around 70,000 miles travelling between Manchester Piccadilly and London Euston. Dr Muhamedsalih carried out weekly assessments of the wear on the wheelsets.
‌"The outcome supported the simulation results, which predicted that tread and flange wear rate would be the same for thin and full flange profiles. The ride quality assessments results shows that the change of flange thickness had limited overall effect on the average passenger comfort," he states. This helps to make the case for ETT – already widely employed in Europe – being allowed in Britain.
The project earned Dr Muhamedsalih a nomination for the RRUK Best Young Researcher of the Year Award, and he was selected by the panel of judges. He has received his certificate and £1,000 prize at the RRUK's London AGM.
Yousif Muhamedsalih was born in Britain, but his family returned to Iraq, where he obtained his first degrees. He relocated to the UK for a University of Huddersfield MSc in Control Systems, moving on to doctoral research. After being awarded his PhD in 2015, he was appointed a research fellow at the University's Institute of Railway Research, where he carries out work with the Rail Safety and Standards Board (RSSB) as part of a strategic partnership.