University's archivist takes poll position
Fri, 05 Aug 2016 11:10:00 BST
Sarah Wickham is first winner of Archives and Records Association's UK-wide awards scheme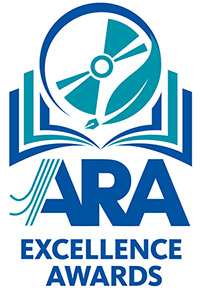 THE University of Huddersfield's Sarah Wickham has been named as the first winner of a national poll to find the UK's top archivist.
Based at the University's award-winning Heritage Quay, she received well over half the votes cast to find the Record-keeper of the Year in the inaugural Awards for Excellence organised by the Archives and Records Association (ARA).
Also, her team at Heritage Quay polled strongly in the category Record-keeping Service of the Year, coming fourth. But Sarah Wickham - who is the University's Archivist and Records Manager - says that she regards her personal award as recognition for the whole team.
She will receive her trophy as Record-keeper of the Year at an ARA conference to be held in London in September.
Sarah is a long-standing member of the ARA and served as its registrar for six years. The new awards scheme was initiated by the Association's outgoing Chair, David Mander, and the winners were settled by open public online voting.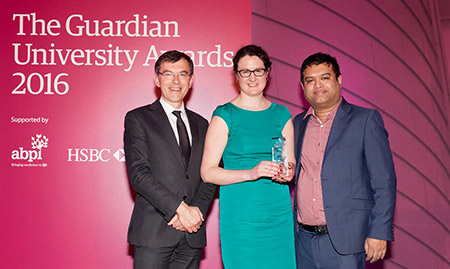 ► Sarah Wickham is pictured centre alongside Deputy Vice-Chancellor, Professor Tim Thornton (left) and the evening's celebrity compere, Paul Sinha when Heritage Quay won in the Buildings That Inspire Category of the 2016 Guardian University Awards
New ARA Chair Geoff Pick congratulated the inaugural winners, saying they "represent the voice of users and practitioners in the sector" and have "set impressive benchmarks for others to emulate, from innovative collaboration and public engagement to attracting new audiences".
Sarah said that archive work was a growing profession and one of increasing scope and importance, especially as the public exercised new rights to consult records.
Heritage Quay – backed by an award of almost £1.6 million from the Heritage Lottery Fund - was opened in 2014 and has quickly gained a reputation as the most advanced and accessible in the sector. Earlier this year it won the Buildings That Inspire category of the 2016 Guardian University Awards and was outstanding Library Team in the 2016 Times Higher Education Leadership & Management Awards. The service was Accredited by The National Archives earlier in 2016.