Business as usual says Huddersfield professor
Mon, 08 Aug 2016 06:00:00 BST
John Anchor's new committee role will enable him to reassure business students from overseas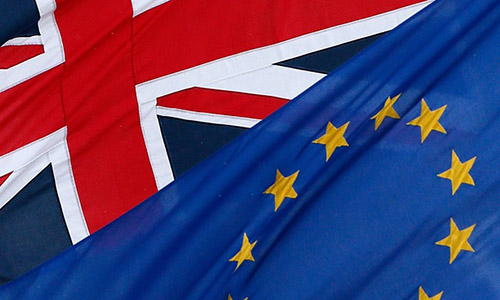 THE aftermath of the Brexit vote will be a major area of discussion and policy-making for a University of Huddersfield Business School professor who has been invited to join the international committee of a key professional organisation. An important task will be to reassure overseas students that it will be business as usual if they plan to study in the UK.
John Anchor is Professor of International Strategy at the University's Business School and its Director for International Development. During his academic career he has forged many overseas research links. Now he has been appointed to the International Committee of the Chartered Association of Business Schools. He is delighted by his new role.
"My membership will enable our Business School to have direct input into the work of the committee and will also provide us with information and viewpoints which we would otherwise not have. I also see my appointment as recognition within the university sector of the growing international dimension to the work of our University," he said.
Professor Anchor attended his first meeting of the International Committee shortly after the UK's referendum on EU membership.
"The meeting was overshadowed by the result," he said. "We had a wide-ranging discussion about how to keep in touch with developments which will arise from the decision. The Brexit issue will dominate a lot of our thinking during the next couple of years as the UK's future relationship with its European partners is decided."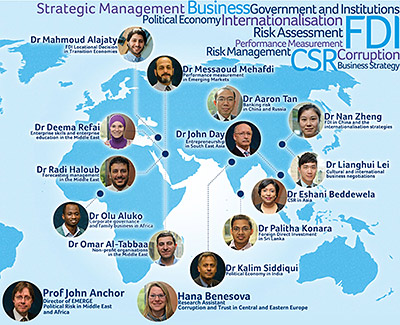 Professor Anchor added that Brexit is a particularly sensitive for UK business schools, because of high levels of EU and other international student recruitment.
"In our Business School around one third of full-time students are from other countries and we have representation from 100 nationalities," he said.
"In the short term it is important that we demonstrate that we are open for business as usual and in the medium term that we maintain well-established partnerships with other European universities, which have led to not only student recruitment but also research partnerships, curriculum development and capacity building projects during the last 20 years."
‌Professor Anchor's research interests include strategic thinking and implementation in emerging markets, especially in Central Europe and the Middle East, plus political risk assessment in international businesses in emerging markets.
He is Director of Emerging Markets Research Group (seen pictured right) within the Business School and his distinctions have included Visiting Professorships at two universities in the Czech Republic.
The Chartered Association of Business Schools is the voice of the UK's business and management education sector. Its aims to support members to maintain world-class standards of teaching and research, and help shape policy and create opportunities through dialogue with business and government.