A day of drama for Sir Patrick
Wed, 10 Aug 2016 08:59:00 BST
University's Emeritus Chancellor returns as the drama building is renamed in his honour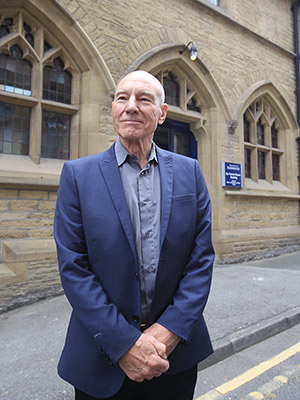 THE drama building at the University of Huddersfield - with its well-equipped suite of theatres, studios and rehearsal space - is now the Sir Patrick Stewart Building.
And the famous actor returned to the university, where he was Chancellor for 12 years, in order to carry out an official renaming ceremony. During his visit, the star of theatre, TV and cinema saw and enjoyed performances by some of the most talented current students and recent graduates, dispensing them invaluable advice at a question-and-answer session.
Just before his departure, Sir Patrick – who had emphasised the importance of communication and spontaneity on stage – gave the students an impromptu and inspirational burst of Shakespeare, declaiming a famous speech from Henry V.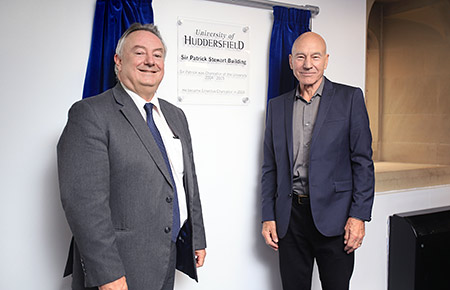 At the naming ceremony, Sir Patrick was introduced by the University's Vice-Chancellor, Professor Bob Cryan (pictured left), who described the famous actor as a living legend.
He explained that the University had embarked on a policy of bestowing personal names on key buildings. Most of them are taken from historical figures such as the Brontës, Richard Oastler and Joseph Priestley.
"But there is one, rather obvious exception to that rule," said Prof Cryan. "Far from being a figure from the mists of time, he is here with us and he is a very much a figure of today. Sir Patrick Stewart has had a long and distinguished acting career. But he just seems to be more and more in demand and to display more and more versatility."
Sir Patrick served as Chancellor of the University from 2004 until 2015, when he stood down, to be replaced by HRH the Duke of York. He is now Emeritus Chancellor and remains a Visiting Professor of Performing Arts.
During his term of office, Sir Patrick set the standard for all university chancellors in the UK, said Prof Cryan.
When Sir Patrick spoke in reply, he described the decision to name the drama building in his honour as an "extraordinary gift".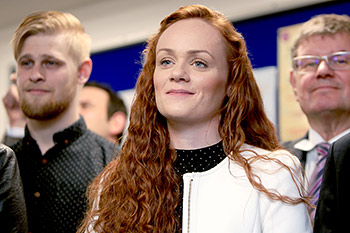 "I missed you all in the past year that I have not been coming up and putting on my magnificent gown and silly hat - but you're not going to get rid of me. Naming a building after me doesn't mean I won't be coming back!" he joked.
Sir Patrick told of his own education, when – as a secondary modern schoolboy in Mirfield – he had been awarded a grant by the old West Riding County Council to go and study at the Bristol Old Vic Theatre School, pledging to the councillors that he would return.
More than 40 years later, when he was offered the post of Chancellor of the University of Huddersfield he instantly accepted.
"Not only would this finally take care of promises I had made to those West Riding councillors, but it would also return me to my community - and I hadn't realised until then how much I wanted to be back. Thanks to the university, over the last 12 years I have spent a lot of time in Huddersfield and my home town of Mirfield, and it makes me very proud".
Guests at the renaming ceremony included prominent theatrical figures, including Northern Broadsides actor-director Barrie Rutter and actress Natalie Gavin (pictured right), a Huddersfield drama graduate who is well-known for a string of TV roles.
Sir Patrick and the guests attended a trio of performances, introduced by Senior Lecturer in drama, Dr Eric Hetzler.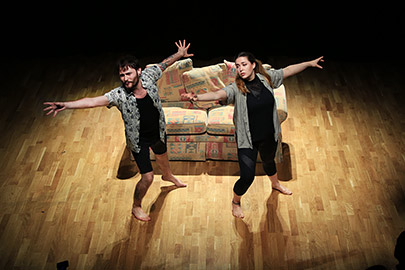 The Art of Losing was a two-hander performed by Jack Bowler and Kathryn Blackburn. Combining spoken word with physical performance techniques, it charted the breakdown of a relationship. It was followed by Forget Me Not, in which three Alzheimer's sufferers – played by James Sharpe, David Field and Sean Sewell – enacted episodes from their past lives.
Those two pieces had previously featured in Common Grounds, the University's festival of drama, theatre and performance for third-year students.
Sir Patrick and party also saw the one-act play Measuring Matthew, performed by second and first-year students Steven Vaughan, Nicola Fisher and Isobel Crossley and directed by Gareth Orr. It revolved around the relationship problems of an individual who was obsessed by numbers.
Afterwards, Sir Patrick said that he had enjoyed all the performances and particularly admired the way that the students integrated language with physical theatre. He then left to return to Sheffield, where he has been appearing with frequent collaborator Sir Ian McKellen in a touring production of Harold Pinter's No Man's Land, which the two acting knights had previously performed on Broadway.