Uni to help Iraq authorities in rebuilding the country
Fri, 22 Apr 2016 09:52:00 BST
Senior minister welcomes the support provided by the University of Huddersfield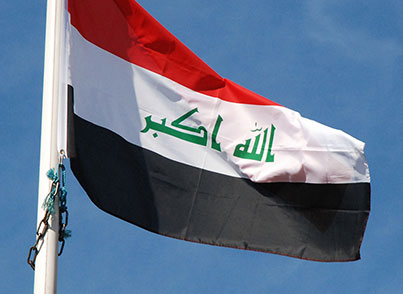 A FORENSIC expert at the University of Huddersfield is poised to help Iraqi authorities with the identification of murdered victims of Islamic State. It is one of a series of partnerships that are enabling the University to assist the rebuilding of Iraq, in association with one of the country's leading academic and political figures.

The links are being forged by Dr Mosttafa Alghadhi and Ray Dance from the University's Research and Enterprise Department, in close collaboration with Professor Mosa al-Mosawe, the former Iraqi Cultural Attaché in the UK, who has now been appointed to a senior position in the Iraqi government. In 2015, he paid a fact-finding visit to the University of Huddersfield.
‌Mr Dance and Dr Alghadhi have visited eight universities and colleges in the Baghdad region. They include Al-Nahrain University, which is working with Iraq's Ministry of Health on identification of IS victims.
‌The University of Huddersfield's Reader in Forensic Biology, Dr Stefano Vanin, (pictured left) has been conducting research into the use of dental details as a way of estimating the age of cadavers and he is due to be furnished with data from Iraq so that he can make a contribution to the process of identification.
Also, informatics lecturer Dr Simon Parkinson (pictured left) – from the University of Huddersfield's School of Computing and Engineering and its Secure Societies Institute – will help with the use of computational intelligence to overcome challenges in cyber security and forensic analysis.
Professor Mosa al-Mosawe is a former President of Baghdad University and he has expressed his thanks for the initiative taken by the University of Huddersfield.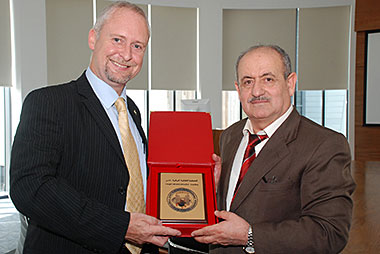 ► Professor Andrew Ball pictured with Professor Mosa al-Mosawe)
He commented: "It is really important that a British university is taking the time whilst we are in our current difficulties and it is very much appreciated by all our universities because it demonstrates that others want to help develop our education system."
The professor has also stated that he is keen to work with UK universities because the Iraqi education system is based on the British model.
One priority for Iraqi Higher Education in is to increase the proportion of university staff with PhDs. Therefore, several of the Iraqi universities visited by Mr Dance and Dr Alghadhi are selecting staff who will undertake doctoral studies at the University of Huddersfield. Three members of Baghdad University have already been offered places in the field of computing and engineering.
The University of Huddersfield's Pro Vice-Chancellor for Research and Enterprise, Professor Andrew Ball, has been closely involved with the Iraqi connection. He said that, "working with long established Iraqi universities will improve the quality of our research outputs and demonstrate our commitment to international collaboration."