Trainspotting author Irvine Welsh major coup for Lit Festival
Tue, 05 Apr 2016 10:21:00 BST
Celebrated writer Irvine Welsh‌ was welcomed by the Huddersfield Literature Festival
WRITER Irvine Welsh has revived a key character from his massively popular and influential novel Trainspotting, and a UK programme of personal appearances to promote and discuss the new book was launched at the University of Huddersfield.
A large audience heard the Edinburgh-born novelist tell his interviewer, BBC broadcaster Nick Ahad, about the creative processes that led to Frank Begbie, a psychopathic drug addict in Trainspotting, making his reappearance in new novel The Blade Artist. Although there are explosions of extreme violence in the book, Begbie is shown in a very different light.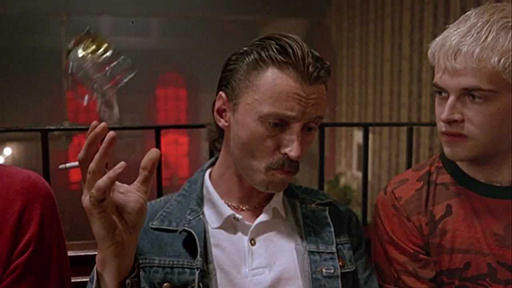 ► Actor Robert Carlyle as Frank Begbie in Trainspotting
The Huddersfield audience also heard that filming will soon start on Trainspotting II, a much-anticipated sequel to the 1996 movie based on Welsh's debut novel, published in 1993.
The appearance by Irvine Welsh at the start of his book launch tour was a major coup for Huddersfield Literature Festival, which has celebrated its tenth anniversary in 2016. The event was introduced by the festival's director, Michelle Hodgson.
The audience learned that in The Blade Artist, Frank Begbie's life has taken an unexpected turn. He is now living the good life in California as a successful artist, married to a therapist. Then he hears that his son has been murdered in Edinburgh. When returns to the funeral, will he revert to violence?
Irvine Welsh said that the origins of The Blade Artist were in a short story he had written in which Begbie, against expectations, was the least violent character.
"If he had carried on his trajectory in Trainspotting he would have been dead or in prison for life. So he had to be reinvented and rehabilitated," explained the author. As a consequence, Begbie is a much more controlled character in The Blade Artist.
"When people are violent it is an admission of defeat, leading to inarticulacy and an inability to express yourself."
The new novel is stylistically different to Welsh's previous novels and he told the audience why: "When the central character is a bit dodgy you don't want to spend too much time in his head. So I made it a slick thriller."
‌Drug addiction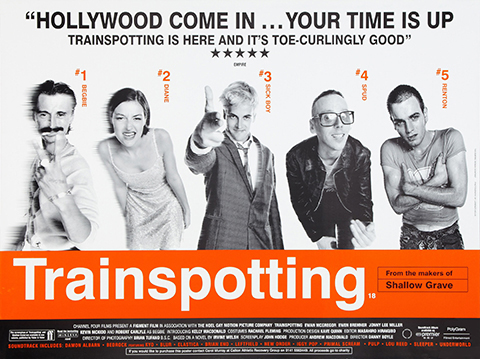 Irvine Welsh is himself based in the USA nowadays and has an American wife. Nick Ahad asked the author if the new novel has a strong element of autobiography. He denied this.
"You operate subconsciously as a writer, so bits of you come out in every character that you write," he said. "You try and write what you know but you try and write towards what you don't know. You want the characters to tell the story. You don't want to get in the way."
Welsh provided insights into his life and background and how Trainspotting was his "last throw of the dice" as he tried to "manufacture an escape hatch" from the prospect of conventional nine-to-five existence. The novel is now regarded as one of the most influential of recent decades, but with its graphic descriptions of drug addiction and violence it continues to polarise opinion.
The author welcomes this: "We live in a divisive society and art should be confrontational."
Irvine Welsh spoke frankly about his own youthful experiences of drug taking, stating that, "I really enjoyed taking heroin at first."
"It didn't seem to be an issue at all for a year. But in the second year everything seemed to go to pieces and the drug seemed to establish a real foothold. I'd got to the stage where you just need to call time.
"But I don't think it is the drug that is the problem. It is what you come into it with," continued the author, who analysed different types of heroin addict.
"People who get over it easily are people like me who stumbled into it through misadventure. Or it is a short-term painkiller. But other people have underlying problems, such as depression and anxiety issues, caused by things like abuse in childhood.
"Also, when people have got no future – no education, no job prospects – it is very difficult to come off in those circumstances.
"Coming off heroin is easily do-able. Most people can detox," said the author. "But psychological addiction – seeing drugs as a pain killer – is very powerful thing."
Welsh confirmed that filming would start later this month on Trainspotting II, which will be based on his follow-up novel Porno. The main members of the cast of the first film are on board, alongside director Danny Boyle. And Irvine Welsh himself will be reprising his cameo role as drug dealer Mikey Forrester.
The University of Huddersfield event concluded with Irvine Welsh reading extracts from The Blade Artist, plus a question-and-answer session with the packed audience in the University's Diamond Jubilee Lecture Theatre.