Touring Oz and setting up a business all in a day's work for Tom
Wed, 27 Apr 2016 15:50:00 BST
Musician Tom Rotherham sets up his own business during his Enterprise Placement Year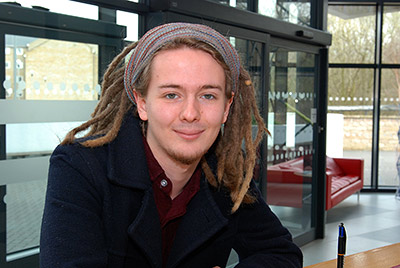 BY day, Tom Rotherham (pictured left) is a Huddersfield student and entrepreneur. By night, he's a member of an up-and-coming electronic dance band who have just finished a multi-date tour in Australia.
‌Tom is 21-years-old and studies Creative Music Technology at the University of Huddersfield. For as long as he can remember he has been learning to play instruments and is classically trained on the guitar, a professional trumpeter (as seen above) and a member of Captain Flatcap (as seen in the video).
‌Recently, Tom decided to use his musical knowledge and experience to setup and run his own freelance music business Tom Rotherham Music.
Tom offers an array of services including classical guitar for weddings, one-to-one music tuition and music composition services for promotional videos, films, games and radio. The company has been set up during Tom's Enterprise Placement Year, with the help and support of the University's Enterprise Team based in The Duke of York Young Entrepreneur Centre.
The Enterprise Placement Year is an alternative to a traditional sandwich placement where students can spend their year in industry by setting up a business of their own. It is both delivered and supported by the Enterprise Team and gives recent students and graduates, like Tom, access to one-to-one business advice, proof-of-concept grants, marketing ideas and networking opportunities.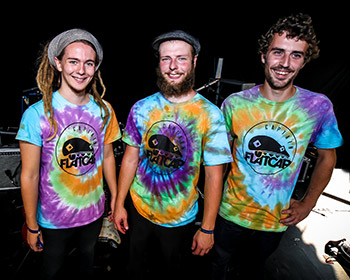 ◄ The members of Captain Flatcap are Tom Rotherham (left), Chris Rotherham (centre) and Matt Woods‌‌‌
When Tom isn't concentrating on his business, he's performing with his multi-genre band Captain Flatcap, who have recently come back from a festival tour in Melbourne, Australia, organised by the Australian events team Culture Jam.
Tom says the experience was unforgettable. "The tour came at such a great time," he said. "As well as expanding our audience and contacts in Australia, it gave us time to finish our debut, self-titled album, which will soon be released on Scour Records."‌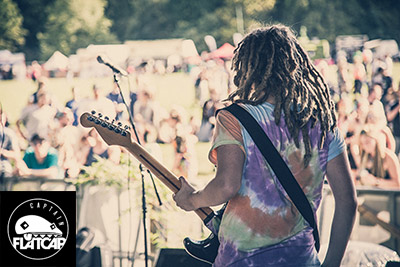 ►Tom Rotherham performing with Captain Flatcap at a festival in Melbourne
‌The three-piece band, which has been together for four years, sounds like it has Yorkshire origins, but is in fact named after its creator – Tom's older brother Chris – who wears a flat cap. Along with third band member Matt Woods, they specialise in fusing the genres swing, ska and funk with electronic dance music and can often be seen playing their catchy beats and rhythms live at festivals and other gigs around the UK.
Originally from Guildford in Surrey, Tom misses his family when he's in Huddersfield but has never looked back at studying here. "There are very few music courses which have a balance of the classical elements and modern music technology," he said. "When I was looking at other universities, the University of Huddersfield had by far the best one."