Times Higher Education awards
Fri, 08 Apr 2016 02:00:00 BST
Two of our University departments have successfully been shortlisted for this year's Times Higher Education Leadership and Management Awards.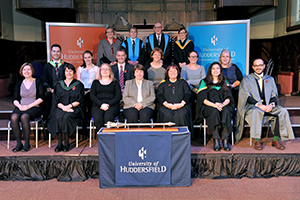 The Registry team is shortlisted in the 'Outstanding Departmental Administration Team' category for their work in revitalising PGR (postgraduate research) administrative and regulatory processes.‌
The Registry team led a fundamental review of every aspect of PGR administration and regulation, resulting in innovative sector-leading initiatives and significantly enhanced outcomes which placed postgraduate research students at the heart of the system. With a 300% increase in PGR numbers and plans to continue to significantly increase this figure, this is an important area for the University.
Heritage Quay has been shortlisted for 'Outstanding Library Team.' It is unique amongst archives internationally in any sector especially in its use of interactive and immersive technology to animate and preserve the heritage collections. Its wide-ranging events and outreach to a wider community across Yorkshire and further afield is a distinctive programme in the UK HE sector.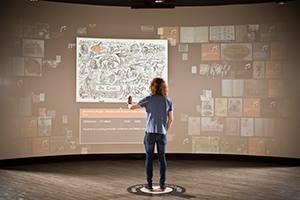 Heritage Quay aims to create a welcoming inter-disciplinary space where people both from within and outside the University community can engage with the historic collections, and to facilitate exploration and discovery. The space includes a seven-metre high IMAX-style Gesture Wall integrated into the design of the facility itself which empowers visitors to engage, experience and interact directly with the diverse collections.
Good luck to both teams at the awards ceremony which takes place on Thursday 23 June.