The Great Huddersfield Bake Off
Mon, 18 Apr 2016 02:10:00 BST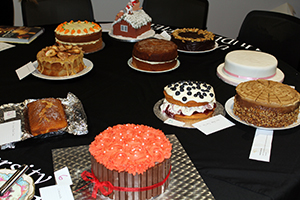 The Great Huddersfield Bake Off will take place on Friday 22 April from 12.00 to 3.00pm.
RAG Week needs all students and staff to compete against each other at the Students' Union, Level 5, Student Central.
The theme is British Classics and they want your own individual interpretation of what this means. You can be as creative as you like so anything from a Queen Victoria shaped Victoria sponge cake or Yorkshire Tea flavour scones.
The entry fee for the bake off will be £3 with all of this going to the principle charities which this year are: Forget Me Not Children's Hospice and Mind.
Your cakes will then be judged, with prizes awarded for the best. The team will then be selling all your scrumptious baked good on to raise as much money as possible for RAG Week. Santander will also match any money raised!
For further information you can contact the Students' Union by email at: su.activities@hud.ac.uk