School of Applied Sciences secures Athena Swan Bronze Award
Thu, 28 Apr 2016 15:47:00 BST
"…we are very proud that we are the first school at our University to achieve a departmental award…"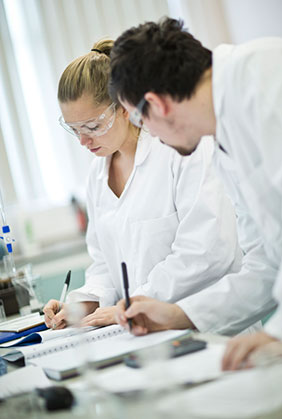 A CAMPAIGN to ensure gender equality among both staff and students at the University of Huddersfield has received a new boost. The School of Applied Sciences has earned an Athena SWAN Bronze Award, bestowed by the Equality Challenge Unit.
The University as an institution already holds a Bronze award, achieved in 2015. Now, Applied Sciences is the first individual school to earn the distinction, after making a highly-detailed submission to the ECU. Other schools will follow suit by drawing up their own Athena SWAN submissions and once they are successful, this will pave the way for the University of Huddersfield to apply for a coveted Silver award.
"We are very proud that we are the first school at our University to achieve a departmental award," said Dr Gemma Sweeney, who drafted the submission after collating detailed evidence of progress made in encouraging the recruitment, retention and career development of female members of staff and students.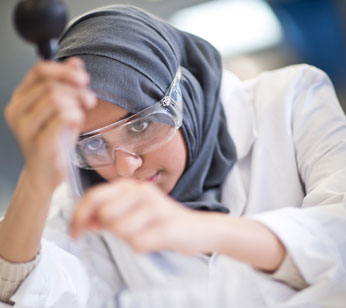 The School has established a 20-strong Self-Assessment Panel that meets regularly to monitor progress towards gender equality, and implement the Action Plan, and its findings helped Dr Sweeney draw up the School of Applied Sciences submission, which can now be viewed online.
The process of working on the submission and seeking data from the departments within the school – chemistry, pharmacy and biological science – was a valuable exercise its own right and pointed to areas of gender imbalance that needed to be addressed, said Dr Sweeney.
The fact that the School of Applied Sciences can now include the Athena SWAN Bronze Award in its recruitment literature will in itself help to attract female scientists, added Dr Sweeney.
"Gender equality is very important to us and the fact that we now have the Bronze award for the School proves our commitment to it. We have redesigned our recruitment advertising literature and prospectuses in order to make our School as attractive to females as possible."
The Dean of the School of Applied Sciences, Professor Jane Owen-Lynch, is an active supporter of the Athena SWAN agenda. She said: "I am thrilled that our work has been recognised with this award and am very grateful to Dr Gemma Sweeney for her tireless work in bringing this submission to fruition with the help of the School committee. Together, we have developed a comprehensive action plan and we can now move forward to fulfil our joint ambition to benefit the careers of women in science, technology, engineering and mathematics and look beyond this Bronze application towards Silver."
The Equality Challenge Unit – which bestows Athena SWAN awards – supports higher education institutions across the UK and colleges in Scotland to advance equality and diversity for staff and students. Initially, Athena SWAN awards covered science, technology, engineering, mathematics and medicine. But they have now been extended to arts, humanities, social sciences, business and law departments.