Professor's composition for Canadian quartet takes top award
Wed, 06 Apr 2016 10:04:00 BST
Professor Pierre Alexandre Tremblay's commission by saxophone quartet Quasar wins Canada's Jules Léger Prize for New Chamber Music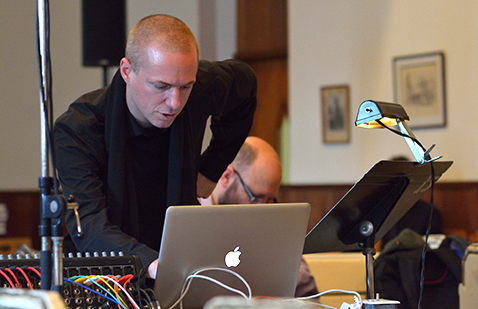 HIS chamber music compositions have mostly been for a soloist, plus electronics, but when the University of Huddersfield's Professor Pierre Alexandre Tremblay (pictured) broke new ground with a work for a quartet it earned him a prestigious prize.
The University's Professor of Composition and Improvisation is Canadian-born, and this meant he was eligible to enter his work Les pâleurs de la lune – for a quartet of saxophones plus live electronics – in his home country's Jules Léger Prize for New Chamber Music.
He has now been announced as the 2015 winner and the $7,500 prize money and a certificate were handed over at a special pre-concert ceremony in Toronto.
Les pâleurs de la lune is a 19-minute piece inspired by lines from Gaspard de la Nuit, by the 19th century French poet Aloysius Bertrand. The composition was commissioned by the Canada-based saxophone quartet Quasar. The ensemble worked closely with Professor Tremblay up to the premiere, and it has since then performed the work around the world in countries that include the USA, the UK and Germany.
The ensemble has also brought the piece to the studio, and the result will be released on Quasar's next recording, entitled De souffles et de machines – released recently on 31 March.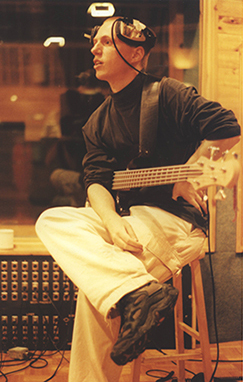 Professor Tremblay said that his prize-winning composition drew on a wide range of his influences, including improvised and electronic music. But he was particularly inspired by the sound world of the Quasar quartet.
"I focussed on the saxophone's history of timbral quality. It was exploited mostly in jazz to begin with and jazz sax player try to develop their own sound and identity. I tried to emulate that with the quartet by using gritty, powerful sounds."
The composer – a performer himself on bass guitar plus electronics – praises the generosity of Quasar for the amount to time the musicians devoted to working with him on the genesis of Les pâleurs de la lune and he is delighted at the number of performances the work has received worldwide.
Also, the project has helped to steer Professor Tremblay in new directions, with further compositions for instrumental ensembles, such as a work for accordion, clarinet and electronics.
The Jules Léger Prize is awarded by the Canada Council for the Arts. The prize was established in 1978 by a music-loving former Governor General of Canada, and is designed to encourage the creation of new Canadian chamber music and to foster its performance by Canadian chamber groups. A performance of Les pâleurs de la lune can be sampled online.