New life for second hand-clothes
Fri, 08 Apr 2016 10:43:00 BST
‌Huddersfield researcher champions the mass production of second-hand garments … in Tanzania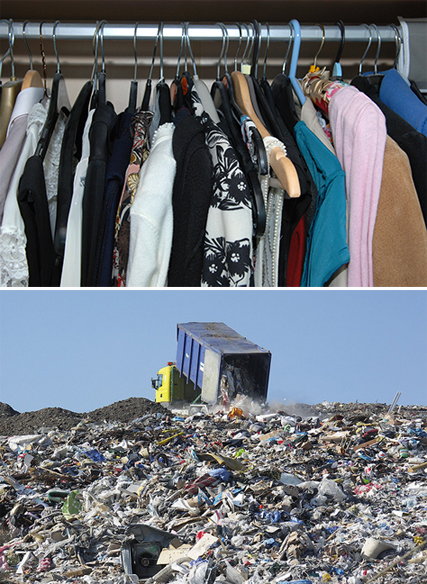 ‌‌IN a fashion-conscious western world, huge numbers of garments are discarded or rarely worn. In the UK alone, an estimated 350,000 tonnes of used clothing – worth £100 million – goes to landfill every year, leading to environmental problems such as build-up of methane gas from chemicals used in textile production. And although the average UK household owns £4,000 of clothes, almost a third – worth £30 billion – languish in wardrobes, worn maybe just the once.
University of Huddersfield senior lecturer in fashion design Dr Karen Shah is a long-standing researcher and campaigner in the field of recycled clothing. Now she is working on techniques that could enable large-scale producers to manufacture new garments using discarded textiles. Also, in collaboration with an African PhD student, she is developing a project that could enable Tanzania to develop a vibrant clothing industry based on recycling.
For a forthcoming special edition of the Journal of Consumer Culture, Dr Shah has authored an article titled From Skip to Catwalk: An Investigation into Viable Pattern Cutting Techniques for Recycled Clothing. In it, she explores "the murky depths of the skip, the rubbish bin" and assesses the "extent to which the refashioning and remaking of items found therein can become new, relevant and valued again".
► Landfill in Tanzania
Dr Shah argues that "current rates of consumption within the fashion industry are unsustainable and more needs to be done to address the issue of not only waste but also the almost schizophrenic desire for a constant new look".
Textile and pattern cutting techniques that utilise waste and found materials have been central to Dr Shah's lecturing and research career.
‌Although there is now greater receptiveness to the concept of recycled clothing, the levels of skill required to refashion garments means that they tend to be focused towards to the couture market, says Dr Shah. She is thinking bigger and has explored pattern cutting techniques and methods in which garments are cut along seams and through key points in order to make them flat. Pieces can then be patchworked together to produce the fabric for a new garment. Dr Shah hopes her research will attract the interest of large producers and retailers.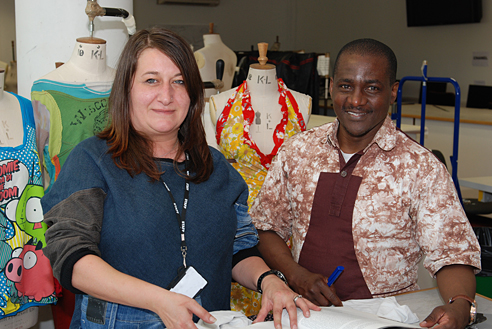 "If the mass production system is producing this waste, then it should shoulder more of the responsibility for reappropriating it back into the system," she says.
A current University of Huddersfield PhD student is the Tanzanian Charles Kahabi (pictured with Dr Karen Shah) , himself a lecturer in print and design at the University of Dar es Salaam. His thesis includes an examination of national dress. In addition to supervising his work, Dr Shah is also drawing inspiration from it.
Tanzania is flooded with discarded clothes from the West, and one result is that indigenous craft skills such as tailoring are being lost. But the country does have traditional techniques for joining fabrics together and now Dr Shah and Charles Kahabi will explore ways of developing a national dress for Tanzania, based on recycling. The two will visit the country later in the year to hold design workshops.
In addition to its practical benefits, her research also acts as a commentary on environmental issues, says Dr Shah. Not only are problems caused at landfill sites, with methane gases from clothing, but garment production is resource intensive. For example, 2,000 gallons of water are used in the production of a pair of jeans.
Over-consumption of clothes is psychologically fuelled by many factors, such as social media, according to Dr Shah.
"Because of social media, we don't want to be seen in the same clothes more than once, and this does nothing for our sense of identity."