Inspire Conference 2016 #hudinspire
Wed, 13 Apr 2016 02:00:00 BST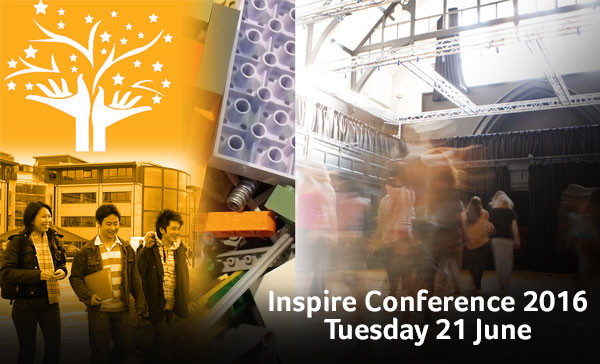 Booking is open for the 2016 Inspire Conference which takes place on Tuesday 21 June, 9.00am – 5.00pm in Lockside. The conference showcases experimental teaching sessions developed by the Inspire Conference module's cohort, exploring techniques, such as: using game-based learning, flipping the classroom, implementing peer learning and using digital story telling.
Keynote: Dr James Pickering - Technology-enhanced learning: is enjoyment and engagement enough?
The keynote presentation will be delivered by Dr James Pickering, Associate Professor in Anatomy and University Student Education Fellow at Leeds University.
In 2014 James won both the THE Award for most Innovative Teacher of the Year and the individual category of the ALT Learning Technologist of the Year Award, for his innovative use of technology to support learning.
James will focus on the use of technology-enhanced learning (TEL) resources, such as eBooks, screencasts, MOOCs in education, with examples drawn from his experience as an anatomy teacher. The use of TEL resources to deliver core parts of the curriculum is rapidly expanding, but alongside enjoyment and engagement what impact do these resources have on student learning? You can follow James on Twitter @AccessAnatomy
Booking
Please see the Inspire Conference Programme for further details - places are limited so we recommend booking early – via Eventbrite: Inspire Conference 2016
If you require any further information regarding the event contact the Teaching and Learning Institute on ext: 3146 or by email: tali@hud.ac.uk
Inspire Conference Module 2016/17
If you are interested in signing up for the Inspire Conference module in 2016/17 you can find out more via the Teaching and Learning Institute website. To be accepted onto the module delegates must already possess HEA accreditation and have the opportunity to teach. On successful completion of the module delegates are awarded a 60 credit PG Cert HE (HEA accreditation providing the additional 40 APL credits).