Huddersfood News
Mon, 11 Apr 2016 02:30:00 BST
New Breakfast Bar
An exciting new self service breakfast bar starts at Campus Kitchen in Student Central, Level 4 which is complemented with some great offers starting off at just £2.50.
Come down and tell them what you think of the new concept.
Food Tasting Event
Ever wanted to be part of a food tasting group? What about having a say in what food they supply around campus?
On Tuesday 12 and Thursday 14 April between 12.00pm to 2.00pm you can do just that!
There will be a variety of vendors and food companies on campus offering their delicious foods for you to taste, test, and tell the Huddersfood team what you enjoy.
So far the following food vendors will be supplying samples:
King Asia (providers of world foods)
Holy Cow (fine Indian food)
St Foods (delicious pasta and rice dinners)
Lee Kum Kee (a wide range of Chinese & Asian sauces)
Cobbs Cakes (gluten free)
Empire Hot Dogs...
Nestlé milkshakes
Smoothies (healthy cold drinks)
Join the event on Facebook for updates on what's available, and enjoy!
Visit the Huddersfood website or facebook to stay in the know!
‌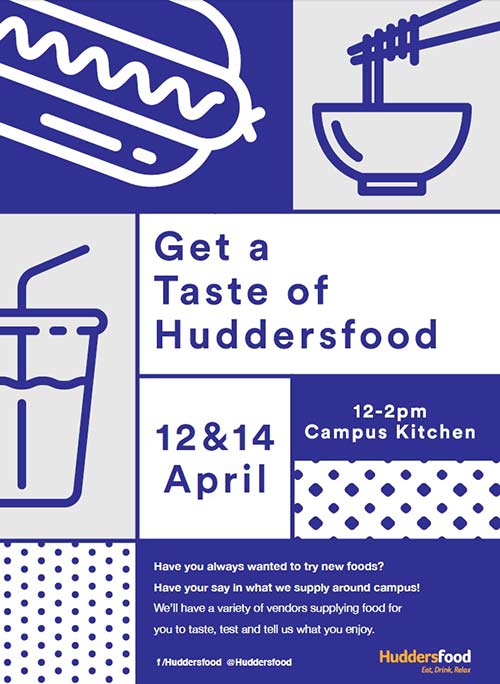 ‌