Huddersfield tops providers of undergrad teacher training
Thu, 28 Apr 2016 15:42:00 BST
Primary education degree tops Good Teacher Training Guide
‌ANALYSIS by a highly-respected publication shows that the University of Huddersfield is the England's best provider of undergraduate teacher training.
The plaudit has been earned by the degree course that focusses on primary education. The course has earned a reputation that means it recruits high quality students, many of whom go on to be employed as teachers in local schools when they graduate. The newly-published Good Teacher Training Guide 2015 bases its findings on three criteria: the entry qualifications of the trainees; the quality of provision and the trainees' employment destinations. The Guide also reports that ratings from the Newly Qualified Teacher (NQT) Survey show that Huddersfield is the leading university for Initial Teaching Training in the primary sector.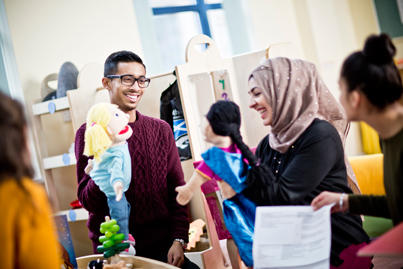 "This is a superb result," said Jayne Price, who is Head of the Division of Initial Teacher Education (Schools) in the University of Huddersfield's School of Education and Professional Development.
Jayne added that the Good Teacher Training Guide findings, based on 2013-14 data, "underline the excellence of our Primary Partnership, which includes the University tutors and the teachers in our partner schools who support the trainees during their school based training". They were also a tribute to the exceptionally high quality of the trainees attracted to the University of Huddersfield's BA (Hons) Primary Education (Early Years and Key Stage 1) with QTS course.
"We aim to produce truly outstanding teachers who will make a positive impact in the classroom and this result indicates that we are succeeding," said Jayne.
The Good Teacher Training Guide is compiled by Professor Alan Smithers and Mandy-Diana Coughlan of the Centre for Education and Employment Research (CEER) at the University of Buckingham.
The Guide is an immensely detailed analysis of the current English teacher training scene and the latest trends and developments, which are described in the new edition. The CEER has been producing league table of teacher training providers since the late 1990s and it bases them on data from a range of official sources.
The Good Teacher Training Guide last appeared in 2013, when the University of Huddersfield achieved second place in the league table for providers of undergraduate teacher training. Now it is No 1, with a score of 651.7, placing it well ahead of the second-placed University of Durham, on 596.2.
The new Guide also comments on the University of Huddersfield's third place in the league table based on NQT ratings from newly-qualified teachers in the primary sector. This table is otherwise dominated by school-centered initial teacher training programmes, known as SCITTS, with no other university-based course reaching the top ten.