Huddersfield Jazz
Thu, 14 Apr 2016 02:00:00 BST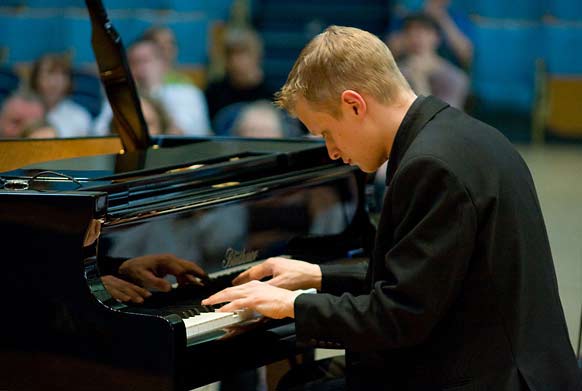 Huddersfield Jazz has teamed up with Heritage Quay to host an evening of Jazz featuring The Dan Whieldon Trio with special guest Richard Iles on trumpet. The line-up for the evening includes Dan Whieldon (Piano), Gavin Barras (Double Bass), Dave Walsh (Drums) and special guest Richard Iles (Trumpet).
The event takes place on Saturday 23 April at 8.00pm to 10.30pm in Heritage Quay, Level 3, Central Services Building. Full bar facilities and on-site car parking will be available on the night. The event is open to members of the public and all staff and students. The ticket price for members of the public and staff is £14 and the price for students is £7. Tickets are available from the iPoint, level 4, Student Central.
Jazz pianist Dan Whieldon discovered his love of jazz while studying classical music at Birmingham Conservatoire. He has won the Nottingham National Jazz Piano Competition and is now a regular at jazz festivals. He has played with several national and international artists including Steve Waterman, Alan Barnes, Tina May and Art Themen. Manchester Jazz festival director Adrian Stevenson described Dan's performance at his event as "jaw- droppingly good" and "captivating and exceptional".
Trumpet and flugelhorn player Richard Iles began playing trumpet at the age of 11 after getting the "bug" to play jazz after hearing his dad's big band records. He became a member of the Midland Youth Jazz Orchestra and various other local bands which further enthused his love of jazz. His most recent projects are his new band Microscopic, and a straight-ahead band called Prestwich Deluxe. He also continues to write for the Miniature Brass Emporium.
To book your place or find out more visit the Huddersfield Jazz website.
For further enquiries please contact Paul Scarth by telephone on 1484 473664 or by email at p.scarth@hud.ac.uk