Honorary Awards at the July 2016 Graduation Ceremonies
Mon, 04 Apr 2016 12:57:00 BST
The University will present honorary doctorates to a famous writer and producer, a celebrated lawyer, a ground-breaking musician and a well-loved TV personality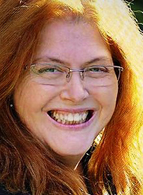 ◄‌ THE writer and producer of a gritty TV drama that gripped millions of viewers is to receive an honorary doctorate from the University of Huddersfield. Sally Wainwright joins a varied list that includes a celebrated lawyer, a ground-breaking musician and a well-loved television personality.
‌Ms Wainwright is the creator of many hit TV dramas, several of which have been set and filmed in the Huddersfield and Halifax area. They include the acclaimed Happy Valley, starring Sarah Lancashire – who herself received an honorary award from the University in 2009. The second series, revolving around the tough but troubled Sgt Catherine Cawood, concluded in March, and drew up to eight million viewers for its tense finale.
The writing career of Sally Wainwright began with scripts for The Archers and Coronation Street. In 2000, she wrote her first original series At Home with the Braithwaites. It was screened worldwide and earned many award nominations. Scott and Bailey and Last Tango in Halifax are also among Ms Wainwright's creations.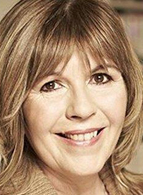 ► She receives her Honorary Doctorate of the University of Huddersfield at a ceremony in July. Sally Wainwright's fellow awardees include the TV presenter and technology pioneer Maggie Philbin. She came to fame as one of the Tomorrow's World team, and she has followed this with a sequence of informative programmes that include BBC 1's Bang Goes the Theory. She has also headed up the BBC's Digital Switchover and created an interactive science and engineering initiative TeenTech, which now runs across the UK and reaches over 5,000 teenagers directly every year.
◄ ‌Michael Mansfield QC, who also receives an Honorary Doctorate, has been a barrister for almost 50 years and is widely known for cases involving civil liberties and miscarriages of justice. He has represented families of people killed in the Hillsborough disaster and the family of murder victim Stephen Lawrence. Clients have also included the Birmingham Six, falsely accused of a pub bombing.
Mr Mansfield also participates regularly in tribunals established by communities and groups of citizens highlighting what they claim are the failure of international and national institutions to implement the rule of law. In 2015, he delivered the University of Huddersfield's annual Social Justice Lecture.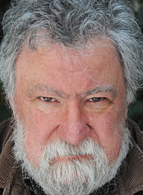 ► ‌Evan Parker, also a 2016 awardee, is a saxophonist renowned as a British pioneer of free jazz. He began to play in the 1950s and has developed many innovative techniques on the sax and in the use of electronics. He has been a member of many leading groups that explore free improvisation, such as the Electroacoustic Ensemble, and he has also collaborated with leading figures such as Cecil Taylor, Kenny Wheeler, Chris McGregor, Stan Tracey and Charlie Watts. Mr Parker has been a performer at the world-renowned Huddersfield Contemporary Music Festival.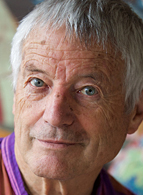 ◄ American-born designer and artist Kaffe Fassett, who settled in the UK in the 1960s, has a global reputation in the fields of knitting, needlepoint and patchwork. He has produced over 30 publications and also tours internationally giving workshops, lectures and museum exhibitions. He has a renowned passion for colour and his work in textiles had led to collaborations with companies that include Rowan Yarns in Holmfirth.
An exhibition in 1988 at the Victoria and Albert Museum in London meant he was the first living textile artist to have a one-man show. This exhibition toured nine countries around the world, including Australia, Scandinavia and USA.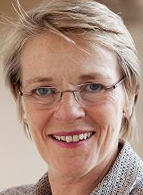 ► Dr Julie Maxton is also to be the recipient of University of Huddersfield Honorary Doctorate. She is Executive Director of the Royal Society and the first woman in 350 years to hold the post. Before this, she was Registrar at the University of Oxford, the first woman in 550 years in the role.
Dr Maxton originally trained as a barrister and combined a career as a lawyer with that of an academic, holding a number of senior academic positions, including those of Deputy Vice-Chancellor, Professor and Dean of the Faculty of Law at the University of Auckland, New Zealand. She is the author of numerous articles concerned with trusts, equity, commercial and property law.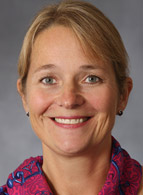 ◄ ‌Also to be honoured by the University of Huddersfield is Naomi Climer, President and Fellow of the Institution of Engineering and Technology. Before this, she was President of Sony's global division Media Cloud Services, based in Los Angeles, with a mission to develop cloud based services for all parts of the media industry worldwide.
After studying at Imperial College, London, Naomi Climer trained as an engineer at the BBC and has worked in technical roles in BBC Radio, BBC World Service and BBC News as well as at ITV and in local radio. In 2014, she was awarded the International Association of Broadcast Manufacturers Industry Woman of the Year. She has a strong interest in diversity issues and has been an active campaigner for gender diversity within Sony and within the engineering profession in the UK. ‌