175th Anniversary Lecture Series
Tue, 26 Apr 2016 15:38:00 BST
The four talks take place on Wednesday evenings in May
AS part of the University of Huddersfield's 175th anniversary celebrations, members of the public can attend free lectures delving into the origins of adult education in the town. It is a story that has cast of characters including Charles Dickens and the Brontës, plus pioneer science teachers and flamboyant celebrity lecturers who were a major attraction in Victorian times.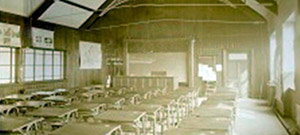 ‌The four-part series – delivered by experts at the University – takes place on every Wednesday in May, with the hour-long talks starting at 7pm. Free places can be reserved in advance. The lectures are:
‌Wednesday 4 May: The class of 1841
Dr Martyn Walker, an expert on the Mechanics' Institute movement in Victorian Britain, looks at the contribution the Huddersfield Institute (pictured right) made to adult education nationally, regionally and locally.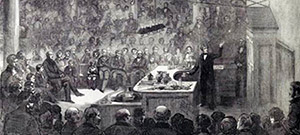 ‌Wednesday 11 May: The Victorian talk show
Professor Martin Hewitt – who is Dean of the University's School of Music Humanities and Media – explores the importance of the celebrity lecture in the nineteenth century. At many late Victorian Mechanics' Institutes, popular lecture courses, often featuring contemporary stars such as politicians, writers, intellectuals, explorers and artists, became their most prominent feature (as seen pictured left). This is a neglected part of the story of the growth of the entertainment industry and celebrity culture.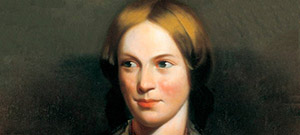 ‌Wednesday 18 May: Read all about it
Dr Merrick Burrow, of the University of Huddersfield's School of Music Humanities and Media, show how poetry flourished among the working classes during the Victorian period. It was a passion fostered by leading authors such as Charlotte Brontë (pictured right), whose bicentenary is celebrated this year, and Charles Dickens. Both gave talks at Mechanics' Institutes.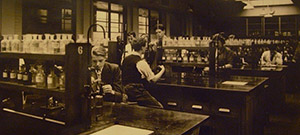 ‌Wednesday 25 May: Good chemistry
Much of Huddersfield's prosperity was built on the chemical industry. The University's Emeritus Professor of Chemistry, Rob Brown, is joined by Dr Martyn Walker to explore how chemistry teaching and research has evolved since 1843 and how this has been influenced by local and national industry. It was as early as 1843 that Huddersfield Mechanics' Institute offered its first courses in chemistry (pictured left), then widely regarded as a rather obscure subject. It was a highly progressive decision.
It was in 1841 – 175 years ago – that Huddersfield Mechanics' Institute was founded, initially known as the Young Men's Mental Improvement Society. Today's university is in direct line of descent from this enlightened educational initiative.