Leading the way in Leadership Development at THE Awards
Fri, 27 Nov 2015 11:54:00 GMT
University of Huddersfield wins 'Outstanding Contribution to Leadership Development' at the Times Higher Education Awards 2015
THE University of Huddersfield's mission to ensure inspiring, innovative leadership throughout the institution has earned a prestigious award.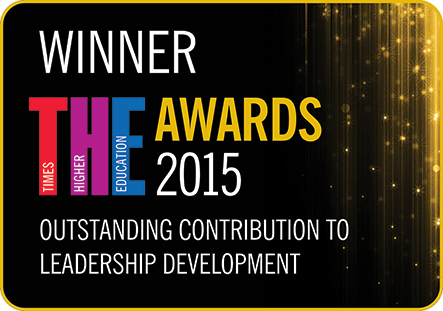 At the 2015 Times Higher Education Awards, the University was named winner of the Outstanding Contribution to Leadership Development category. In the words of the organisers, this "seeks to recognise and reward imaginative schemes that foster leadership development at any level of management – from governors to departments".
The ceremony took place at London's Grosvenor House Hotel and was compered by famous impressionist and writer Rory Bremner, who presented the award to Martin Plant, Head of the University of Huddersfield's Staff Development Group.
The Times Higher Awards are widely regarded as the most prestigious in the sector and the University of Huddersfield has enjoyed considerable success at recent ceremonies – including the title of University of the Year.
Mr Plant said that he was delighted by the latest award, which recognised the key contribution that leadership and management programmes had made to the University. Evidence of this was to be found in positive assessments from the organisation Investors in People and from the Quality of Working Life survey carried out among staff every two years.
The detailed submission that was made for the Times Higher award emphasised the need "to ensure that reflective practice and support for creativity and innovation became embedded in our culture".
To secure this, the University piloted the Huddersfield Academy of Leadership and Management, an innovative, individualised development programme for all managers.
The approach has proved to be highly successful, so that the second cohort to volunteer to take part was twice the size of the first and included the complete senior management team from one of the University's schools.
An Investors in People assessor was impressed by the scheme, describing the approach as "ground-breaking" and "unique in the sector".
In addition to scoring victory in the Outstanding Contribution to Leadership Development, the University of Huddersfield also reached the final shortlist for Most Innovative Teacher of the Year with Senior Lecturer in Law Philip Drake and Outstanding International Student Strategy.