Duchess of York chooses student designs for India women's charity
Wed, 17 Jun 2015 00:07:00 BST
The Duchess of York chose the winning textile design to go into production as part of the Key to Freedom project supporting abused Indian women in West Bengal
Watch the video to view a newsreel of the day's events when The Duchess of York chose the winning textile design for the project Key to Freedom.
TEN talented fashion students presented Sarah, Duchess of York, with a difficult dilemma when she visited the University of Huddersfield.
She had set them a brief to design textile products that could be made by Indian women who are being trained by a charity in which the Duchess is closely involved. Now she came to see the results and hear the students explain how they developed their vibrant designs for clothes and bathroom accessories such as wash bags.
Then The Duchess had to decide which of the five portfolios would be selected for possible production and the prospect of being placed on sale by major chain Topshop. She was clearly impressed by all of the offerings and joked that "I would hate to be Simon Cowell!"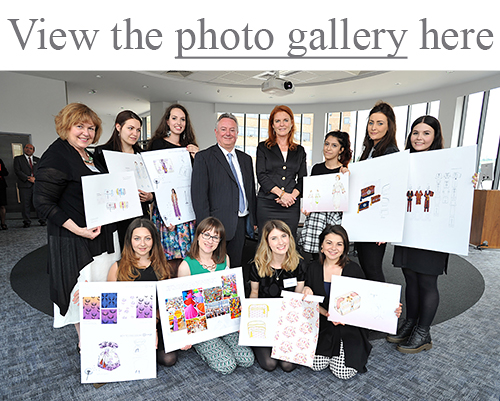 The Duchess of York and the University's Vice-Chancellor Professor Bob Cryan are pictured with the students and their designs. To view more of the photos at the event please go to the link provided above the photo.
‌But although she finally plumped for an overall winner, she also decided that there would be no losers, because The Duchess – clearly moved and impressed by all of the work on display – then declared that all of the student teams would have their designs produced and showcased by a new charitable website she is launching.
Before she made this announcement, The Duchess selected the work of final-year students Emily Cliffe – who has studied fashion design with textiles – and Chantelle Mallin, whose course was fashion design and marketing.
The two students decided to concentrate on menswear for their range of wash bags, duffle bags and loungewear. Emily, aged 22, from Bridlington, produced the prints and Chantelle – aged 23, from Barnsley – worked on the designs. For inspiration they delved into Indian temple culture and the imagery of the god Shiva, while choosing bold, contemporary colours.
Shortly to graduate and seek work in the fashion industry, the two students were delighted to be chosen by the Duchess and they are excited that their designs, after being hand-made by Indian craftswomen, could be marketed by Topshop.
Key to Freedom
The project originated with the Women's Interlink Foundation (WIF), which works with young women from West Bengal who have been exposed from an early age to domestic abuse. Many have been trafficked into the sex trade. The Foundation provides the women with accommodation in safe houses, where they are taught skills such as sewing and textile printing. This enables them to produce garments that are sold overseas through an initiative named Key to Freedom, which will enable them to become economically independent.
The Duchess is closely involved with Key to Freedom, which is also partnered by major UK high street chain Topshop. They seek bold new designs for textile products that can be made by the West Bengali women and then placed on the market.
Key to Freedom began in 2012, after HRH the Duke of York – who is patron of the University of Huddersfield – visited India during the Queen's Diamond Jubilee celebrations. This was followed by a visit from The Duchess of York, and her daughter Princess Eugenie, who met the Indian girls.
The Duchess and her daughter helped develop creative ideas and lift the project off the ground. A team from Topshop also travelled to advise and collaborate with the girls, further developing their skills.
Vibrant designs
‌The University of Huddersfield's involvement began as a result of its connection with the Duke of York. He alerted The Duchess to the potential of its fashion department, which was then asked to participate in Keys to Freedom.
Five teams of two students were selected to take part in the project and they all came up with distinctive and vibrant designs for garments and bathroom accessories.
The Duchess of York's emblem – including an 'S' for Sarah – was subtly incorporated into the designs and the students were influenced by research they conducted into Indian culture. But they also had to consider practical issues, such as how the finished products could be made by the women in Calcutta and then marketed, said Senior Lecturer Nicola Redmore, who is Subject Leader for Textiles and one of the staff members who co-ordinated the project.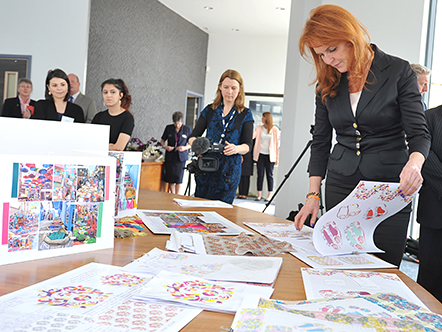 When The Duchess arrived she was escorted by the University's Vice-Chancellor, Professor Bob Cryan, as she inspected all of the designs. She took a detailed interest as the students explained their ideas and inspiration. Afterwards she said how she had been "blown away" by the talent of the University's fashion and textile students.
"This has been brilliant and we must do so much more together!" she said, before delivering a speech in which expressed her passionate hatred of slavery and her determination to work against it, via initiatives such as Keys to Freedom. Men, too, are being enslaved and exploited, she said, and this was one of the factors in her choice of Emily and Chantelle's project.
‌Although the Duchess was obliged to choose a design portfolio she left the onlookers in no doubt that it was a tough decision to make. "You are all winners!" she said. And then, after extra deliberation, she told the delighted students that, "the winners are the winners, but we're going to start up a website called Philanthropreneur Ltd and are going to make up each one of your designs because everyone has such different tastes".
‌The next step was to write up a business plan, secure investment and then send the student designs to Calcutta to be made up by the Key to Freedom women. This means than in addition to Chantelle and Emily, there is now a full roster of successful design teams:
Laura Trowsdale, a first-year textile practice student, teamed up with Jessica Welburn, in the final year of her fashion design and textiles degree. Laura worked on the print designs for their range and Jessica was responsible for the shape of the products. They developed a theme inspired by Indian markets and sense of community.
Antonia Sharkett, in the final year of her fashion design and textiles course, collaborated with second-year textiles with surface design student Jessica Thornton. Purples and pinks were the predominant colours of their designs – with Jessica developing the patterns and the Antonia the product design – and their theme was 'Hope'. "That is what we take away from the charity," said Antonia.
Bulgarian student Maria Ivanova – in the final year of her fashion design with marketing and production degree – worked with first-year textiles practice student Cindy Smith on a range of womenswear, wash bags and a slipper bag. American-born Cindy has a background as a weaver and painter and she produced hand-painted designs, incorporating the Duchess's logo in a wide variety of ways. These would then be transferred to computer but hand-blocked on to the garments and bags. Maria and Cindy believed that their direct, practical approach meant they were connected to the traditional aesthetics and crafts of India.
Romanian-born Aida Stan, who has completed her fashion design with marketing and production course, teamed up with second-year textiles with surface design student Sunna Yasin, to create designs for nightwear, a bathrobe and wash bags. They aimed for sophisticated elegance, but also shapes that could easily be produced by the Indian women. They too delved into Indian religious culture and the goddess Devi was a key inspiration.