Pushing the boundaries lifts Music student to new heights
Wed, 22 Jul 2015 06:00:00 BST
John Aulich graduates with First Class Honours and now embarks on an MA course in composition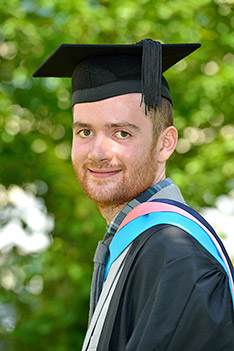 ‌MUSIC graduate John Aulich is creating his own, distinctive sound world in the shape of complex compositions that make special demands on musicians. His portfolio has earned him exceptionally high marks in his first degree at the University of Huddersfield and now he is poised to continue his studies and widen his musical horizons still further.
Manchester-born John has scored First Class Honours in his Bachelor of Music (BMus) course and he is a winner of a Chancellor's Prize, awarded annually to the top echelon of students throughout the University. He will now embark on an MA course in composition.
John's musical journey began as a guitarist and it was while during A-level studies at college that his music caught the ear of composer Dr Matthew Sergeant, a former University of Huddersfield PhD researcher who is now a member of its music department.
"Matt seemed to think I had a knack for composition," said John, so he enrolled at the University himself. The BMus course exposed him to a wide range of music and technical skills, with an increased emphasis on composition in his final year.
John has been particularly influenced by the teaching and the music of the University's Dr Bryn Harrison and Professor Aaron Cassidy, who will now supervise his MA work.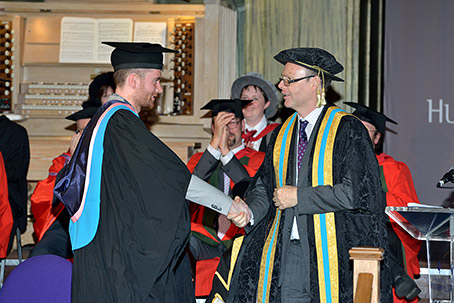 He describes himself an experimental composer. "I am trying to push the boundaries and create situations in which new things can happen, partly by finding ways to harness the creative agencies of performances and audiences, first and foremost as people, without shirking my responsibilities as a composer."
John composes for small ensembles, using a mixture of conventional classical instruments with electronics. By the same token, he uses a combination of standard scores with graphical symbols.
"It is just a way of notating things that can't be notated conventionally," said John. "The way that I write the music is fairly ambiguous, so there is room to make decisions. No two performances will be the same."
His music is difficult to play, he admits, so he faces a constant challenge change in finding musicians who can meet his demands.
"It is not a conscious decision to create difficult work. But it requires things from performers that they are not normally expected to do."
In addition to his Chancellor's Prize, John has also been awarded the J. Wood and Sons Prize for Composition, and the Truscott Prize for all-round achievement.