Mikron Theatre deposits archive at the University
Wed, 08 Jul 2015 12:45:00 BST
The history of a unique waterways theatre company finds a canalside home at the University's Heritage Quay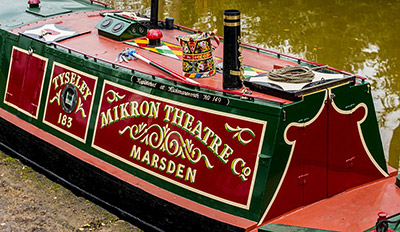 THE University's state-of-the-art archive centre, Heritage Quay, is to be the home of almost 45 years of unique theatre history.
Mikron Theatre Company perform traditional outdoor theatre shows all over the country at canal-side pubs and village halls, as well as in museums, village greens, boatyards, allotment sites and other unusual venues via the inland waterways on their historic narrowboat, Tyseley (pictured). The company wanted somewhere to acknowledge its history and Pete Toon, Mikron's Producer, along with Marianne McNamara, Mikron's Artistic Director, felt a fitting home would be the University's archive facility, based on the side of the Huddersfield Narrow Canal.
Pete and Marianne are pleased that such a precious part of their theatre history can now be shared and enjoyed by others instead of being boxed away.
"Mikron is the only theatre company that tours in the way we do and we've been doing it since 1972," said Pete. "In that time we've had some amazing experiences and adventures and much of it is documented in this archive.
"We've always been aware of the vast amount of information that's been stored away in our attic, not just about Mikron, but about the history of theatre, the waterways and the people who live and work on them. We've got some fascinating documents and some great photos, and we are so delighted that the Heritage Quay will give us a way to share those with anyone who wants to see them," he said.
Archival heritage at the touch of button
Heritage Quay is one of the most technologically-advanced archives in the UK. With free entry, the centre is fully open to members of the public, so that they can delve into its varied collections.
There is also a high-tech Exploration Space, enabling visitors to sample archival material via touch screens and gesture technology.
Lindsay Ince, Assistant Archivist and Records Manager at Heritage Quay, is helping Mikron archive their material and is looking forward to the challenge of storing such a varied collection.
"We're delighted to be able to assist in safeguarding Mikron's archival heritage for the future," said Lindsay. "The range of material in the archive creates opportunities for both the general public and academic community to carry out research into the history of independent theatre companies and the waterways.
"We look forward to being able to showcase Mikron's fantastic design and audio visual material in our interactive Exploration Space, providing both Mikron Friends and followers with opportunities to re-discover the company's illustrious past," she added.
Unique company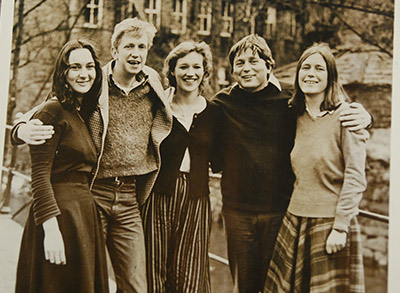 I‌n the photo left to right are former Mikron actors Kate Duchêne, Mark Williams and Sarah Parks with Mikron founders Mike and Sarah Lucas.
The collection, with material dating back to the day Mikron was created in the 1970s, includes photos, posters, company newsletters, performance cassette tapes and theatre backdrops from plays performed in years gone by.
Well-known actor Mark Williams, famed for playing Arthur Weasley in the Harry Potter film series, toured for three years with Mikron in the 1980s, before leaving to pursue a freelance career. However, he did stay on as Associate Director and there are photos included in the archive of his performances with the group.
Pete and Marianne formally handed over the archive to Heritage Quay on the 30 June and said they will be paying the University another visit when they come to perform their play One of Each later this year on 8 October.