World-famous designer Kaffe Fassett met textile's new generation
Mon, 23 Feb 2015 15:19:00 GMT
Artist and designer Kaffe Fassett spent the day with Huddersfield textile students prior to delivering his guest lecture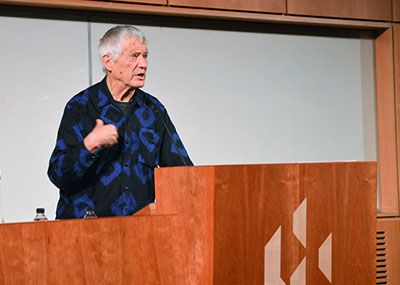 ‌"COLOUR is my passion," said world-famous artist and designer Kaffe Fassett when he spoke to a packed audience at the University of Huddersfield (pictured left). And he added that during a day meeting textile design students, he was moved and excited by the passionate colours and the burgeoning talent that he encountered. "It was great to see all the flames that will be fanned into careers."
A prolific author and exhibitor, American-born Kaffe Fassett has been resident in England since the 1960s and is regarded as one of the most influential figures in his field. His London studio – which he described as "a playground for colour" – is renowned for its fabrics, needlepoint, mosaics, quilts, rugs, knitting and painting.
A long-standing friend and collaborator is Stephen Sheard, who is current president of Huddersfield Textile Society, which co-organised the visit and the public lecture. Mr Sheard introduced Kaffe Fassett to the audience and recalled how he had been "inspired by this memorable American who dared to be different".
Global quest for colour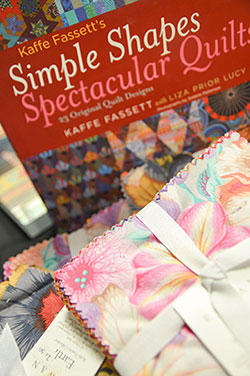 ‌Kaffe Fassett was raised in California and he told his audience that as a traveller he wanders the streets of the world in search of unexpected colour. "It is very thrilling when I find it and there is always some colour in the dankest, greyest parts of the globe."
But he went to say that grey was "the most subtle, unbelievable colour in the world" and screened several pictures to illustrate the point.
‌"When I first came to England I had to get very used to grey! But I now realise that it is very beautiful. I love the softness of English light. You can see colour so much better."
He also praised Britain for its brilliance at the ceremonial use of space and colour, citing the recent example of the ceramic poppies at the Tower of London, installed as a memorial to the dead of World War One. "It was just incredible – a beautiful happening that lit me up."
In this video Kaffe talks about his passion for colours, 'yarn-bombing' and why students shouldn't be afraid of filling their designs with colours.
After his introductory remarks, the lecturer showed and commented on a long succession of photographs that he had taken around the world, on his global quest for colour. There were also illustrations from his books plus pictures taken in his studio or on location. Subjects ranged from iron manhole covers that had taken on a colourful patina, to Moroccan quilts, Australian aboriginal art and brightly-painted Italian townscapes.
He provided many insights into his own creative process and included illustrations from exhibitions of his work, some of which had taken place in unusual locations, such as a remote church in Lincolnshire.
After, the lecture there was a succession of questions from the audience – which included a large number of students – and Kaffe Fassett was thanked by Nicola Redmore, who is Senior Lecturer and Subject Leader for Textiles at the University of Huddersfield.
"We have had a fantastic day with you and we are really inspired," she said.