Vice-Chancellor receives CBE from HRH The Prince of Wales
Fri, 30 Jan 2015 11:43:00 GMT
"...the award is not purely a personal honour, but a tribute to the contribution made by all staff who have helped to raise the University's reputation..."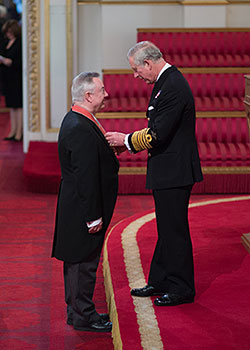 HRH The Prince of Wales is pictured bestowing the CBE onto the University's Vice-Chancellor Professor Bob Cryan.
PROFESSOR Bob Cryan, Vice-Chancellor of the University of Huddersfield, is proud to have received his CBE at a Buckingham Palace ceremony presided over by HRH The Prince of Wales. However, he says that the award is not purely a personal honour, but a tribute to the contribution made by all staff who have helped to raise the University's reputation in recent years.
After bestowing the CBE on Professor Cryan, His Royal Highness – who has been one of the University's many Royal visitors – asked how the institution was faring.
"I told him that we were absolutely flying at the moment and of course I mentioned that we are a recent winner of the University of the Year title!" said Professor Cryan, whose wife Kath and children Joseph and Georgia were among the audience at the ceremony.
His CBE was announced as one of the Queen's Birthday Honours in 2014, and the award was made for Professor Cryan's services to higher education.
"I must assume that it was a result of the wonderful, transformational journey that we have made at the University of Huddersfield, and so I would like thank all staff for their contribution. As the team leader, it is me who has received the actual medal, but everybody here shares the recognition," he said.
The Buckingham Palace ceremony was a wonderful experience, supremely well-organised, said Professor Cryan. The Countess of Wessex's String Orchestra – an official armed forces ensemble – provided music, and when HRH The Prince of Wales entered he was flanked by two Ghurkhas and five Yeoman Warders, in full "Beefeater" uniform.
Professor Cryan appreciated the historical pageantry, but also the link to research at the University of Huddersfield, where Head of History Professor Paul Ward has conducted a project investigating the role of the Tower of London's Beefeaters in British culture.
There was an added Royal dimension to Professor Cryan's day. HRH The Prince of Wales' brother, HRH The Duke of York, is patron of the University of Huddersfield. He not only tweeted his congratulations to the Vice-Chancellor, but also invited Professor Cryan and his family to a private reception after the ceremony.
"The Duke was very generous with his time and made it an even more special occasion," said Professor Cryan, who is Huddersfield-born and the holder of several advanced engineering degrees.
After beginning his academic career at the University of Huddersfield, he went on to hold a sequence of key posts in the higher education sector, before returning to his hometown university as vice-chancellor in 2007.
In 2013, Professor Cryan was voted Inspiring Leader of the Year at the Guardian University Awards. He is also a Deputy Lieutenant for West Yorkshire and a Board Member of the Leeds City Region Local Enterprise Partnership.