Uni's Legal Advice Clinic goes from strength to strength
Thu, 26 Feb 2015 13:00:00 GMT
Law students now act as 'McKenzie Friends' to people denied legal aid for county court appearances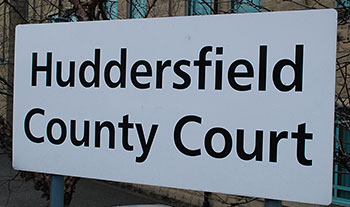 LAW students at the University of Huddersfield will be friends indeed to people who have been denied legal aid for county court appearances.
The students will give their services free when they act as 'McKenzie Friends', providing advice, guidance and support to litigants unable to afford solicitor fees. Huddersfield County Court judges and officials have not only signalled their approval of the scheme, they have provided training and will also give instant feedback to the students.
The McKenzie Friend system takes its name from a 1970s court case, which established that all litigants are entitled to receive advice in court, and the person giving it does not have to be legally qualified.
The Huddersfield students – soon to acquire their qualifications – will gain valuable, real-world experience when they support litigants in a wide variety of civil law cases, including family law and contractual disputes.
"It will be excellent preparation for their careers," said Philip Drake, Senior Lecturer in Law at the University. He said that unless they had express permission, the students acting as McKenzie Friends would not address a judge directly during the case. But they would help clients with legal papers and clarify issues that the client does not understand.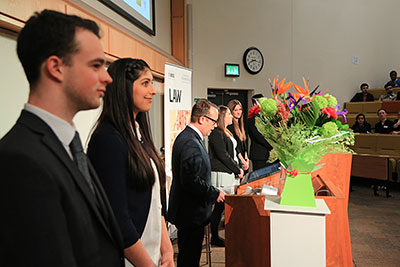 Before the second annual Social Justice Lecture, a team of five law students gave an impressive joint presentation that described the work and goals of the Legal Advice Clinic, of where they all volunteer.
The students taking part in the scheme – soon to be launched – are all volunteers with the innovative Legal Advice Clinic (LAC) that has now operated for over a year in Huddersfield's Packhorse Centre – located in the heart of the town so that is easily accessible to potential clients.
Legal advice
‌Conceived by Mr Drake and the students as a response to legal aid cutbacks, the LAC has been exceptionally successful and its direction has been shaped by the law students who take part, offering free advice to increasing numbers of clients.
There are now 28 student volunteers working with the LAC, which holds drop-in sessions and also has an appointment system. As news of the centre has spread, there is increasing demand for its advisory services and all appointments for the next academic term are now booked. Subjects dealt with include contractual disputes, family law, employment disputes, wills and probate, plus landlord and tenant rights.
As a preliminary to this year's Social Justice Lecture at the University of Huddersfield, a team of five law students – Amy Watson, Jessica Carlin, Qasim Hasan, Aysha Mattloob and Matthew Gale – gave an impressive joint presentation that described the work and the goals of the LAC (pictured above).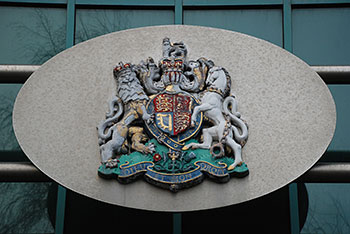 Mr Drake said that after its first year, the Centre had exceeded expectations and he had found the work of the students inspirational.
"I think it will shape their careers and make them socially-responsible lawyers," he said.
The McKenzie Friends initiative is a development of the LAC project and has been warmly welcomed by Huddersfield County Court, because it could help with the smooth running of cases, now that legal aid cuts have resulted in increasing numbers of litigants coming to court who have no grasp of legal issues.
A County Court judge has provided the student volunteers with special McKenzie Friend training and he and his colleagues will speak to students in the immediate aftermath of cases, providing them with valuable guidance.