Uni signs MoU with Libya's Misurata University
Thu, 05 Feb 2015 09:28:00 GMT
The Memorandum of Understanding will result in research collaboration and Misurata PhD students coming to Huddersfield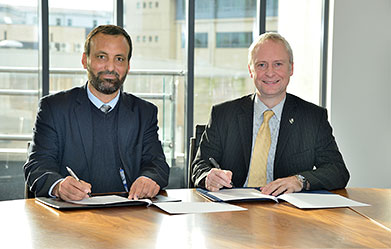 Pictured opposite are Dr Aldukali Alkeskas, Dean of the Faculty of Dentistry (left) and the University's Pro-Vice Chancellor for Research and Enterprise Professor Andrew Ball signing the Memorandum of Understanding.
‌INTRIGUING research and teaching collaborations could result from a new agreement signed between the University of Huddersfield and one of the most ambitious universities in Libya.
A delegation from Misurata University held talks with Huddersfield researchers in a variety of fields. One of them was Dr Karen Ousey, a wound care expert, who heads the Institute of Skin Integrity and Infection Prevention. The Libyan visitors all work in the fields of health care and microbiology and they discussed the possibilities for how the research of the Institute could to lead to a greater understanding of the effects that dry, humid and desert conditions had on skin.
The visitors also met linguistics expert Professor Dániel Kádár and discussed an innovative proposal for Libyan lecturers to receive English language training in Huddersfield. This would mean that on their return to Libya, they could help ensure that future students who came to the UK could begin their courses immediately, without having to devote several months to developing language skills. This could be a considerable cost saving to the Libyan government.
The delegates from Misurata University were Dr Salem Elwahaishi, who is Dean of the Faculty of Nursing, Dr Aldukali Alkeskas, Dean of the Faculty of Dentistry, and Microbiology lecturer Dr Nasreddin Rhouma.
Dr Rhouma had visited the University of Huddersfield eight years ago and said that the new buildings and facilities meant that the campus in 2015 was "unrecognisable".
The visitors were particularly impressed with the facilities and opportunities available in the School of Applied Sciences, where they were hosted by Professor Joe Sweeney, and the visitors had discussions with Sue Ford of the Registry Department about UK Quality Assurance requirements in education. The delegates stated that this would aid plans to develop their education system to western standards.
The visit was hosted by Professor Andrew Ball, who is the University of Huddersfield's Pro-Vice Chancellor for Research and Enterprise. A Memorandum of Understanding was signed and will result in research collaborations and a flow of PhD students from Misurata.
The University of Misurata – based in Libya's third largest city – was established in 1993 and has continuously topped the Libyan university rankings. It has more than 18 faculties.