The University's Holocaust Memorial Day – guest speaker Iby Knill
Thu, 12 Feb 2015 14:45:00 GMT
The University welcomed Czechoslovakian Holocaust survivor Iby Knill, who was sent to Auschwitz by the Nazis in June 1944
‌WHILE growing up in Czechoslovakia during the 1920s and 30s, Iby Knill was not aware that she and her fully-assimilated family were Jews, and did not even know what it meant to be Jewish. But its significance became all too apparent when Nazi racial laws were imposed, leading to inconveniences, indignities, dispossession, deportation and finally a journey to Auschwitz, where her father was one of the last to be gassed.
Iby's survival – after immense hardship and against many odds – led to further journeys, including marriage to a British army officer, a new life in England, adoption of Christianity and eventually, after 60 years, the decision to tell the story of her wartime experiences, which had been locked away in her mind.
Now aged 91, Iby Knill – who lives in Leeds – is the author of a vivid Holocaust-survival memoir that also deals with her pre- and post-war life. She also gives public talks, including an appearance at the University of Huddersfield, where the audience in a packed lecture theatre heard her message of tolerance for all individuals and all faiths... and also sampled her caustic humour and sense of the absurd.
For example – long after the war – she discovered that there were 32 surviving documents about her in Nazi archives. "Bureaucracy gone crazy!" she said. On her arrival at Auschwitz in June 1944, she was scrupulously logged and documented – but a shortage of ink meant that she was not branded with the customary tattoo. This ultimately furnished the title for her memoir – The Woman Without A Number.
The promise
Her experiences were nonetheless horrific, with survival a matter of chance, determination and the fact that she had nursing experience and considerable language skills. Knowledge of Czech meant that she received slightly larger rations from the kapos in charge of her hut; and the fact that she could speak upper class "Hochdeutsch" – the German equivalent of the Queen's English, she explained – occasionally earned a measure of instinctive respect from Nazi soldiers. When conditions in the camp were briefly improved in order to present a better appearance during a visit by a Papal representative, she used Latin to tell him "do not believe what you see".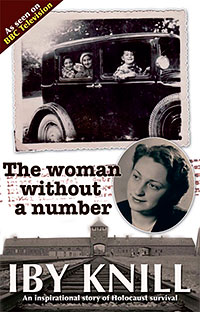 Pictured left is Iby Knill's book "The woman without a number".
‌Iby also encountered the notorious Nazi doctor Dr Josef Mengele and after being transferred to another camp as part of a medical detachment, she was approached by one of a pair of twins and was made to promise that she would tell the world about the now infamous experiments that were being conducted. She kept her promise – but it took her 60 years. During questions at her University of Huddersfield talk, Iby attempted to explain why she had not spoken or written about her experience for such a long period.
"I didn't think about it. It didn't exist. I put it away. With any trauma it is the same – you must get on with living." But when she was in her 70s and studying for an MA degree in theology, the subject of the Holocaust was raised during a discussion on the nature of good and evil. At last she began to talk and then to write about her experiences. The results include the 2010 book The Woman Without A Number, an appearance in a BBC TV documentary and a personal website that describes her highly-varied experiences – ranging from the adventurous to the tragic – during the 1930s and 40s.
She has also become an accomplished public speaker and was invited to deliver the second annual Holocaust Memorial Lecture at the University of Huddersfield. In recent years she had spoken to some 26,000 people, she said, and had yet to meet a Holocaust-denier.
"There is so much evidence – 55 million documents about 11 million people. You would have to be very stupid not to believe it," she told the Huddersfield audience during a question-and-answer session.
Despite her flashes of humour, she left the audience in no doubt about the horrors she had witnessed and the danger that they might reoccur. She concluded by reading a poem that narrates her experiences and its final lines make a universal plea for tolerance...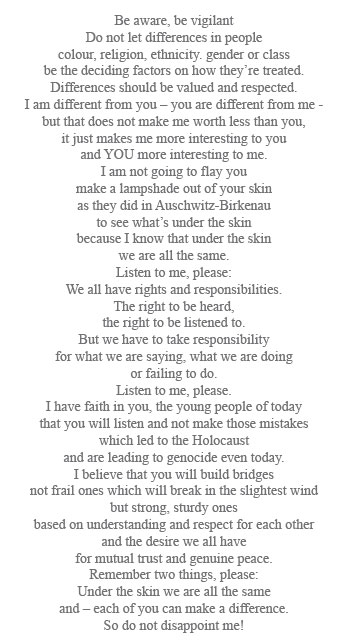 The full text of the poem "I was there Auschwitz-Birkenau – June – July 1944" can be read online.
Last year the University's Holocaust Memorial Day was with guest speaker Leisel Carter who was a German Jew and a victim of the Jewish persecution in WWII. Watch her video here.
Back to news index - February