Research survey underway to find 'men's food' and 'women's food'
Wed, 25 Feb 2015 14:31:00 GMT
Does gender play a role in what we eat? A survey is now underway to find out... take the survey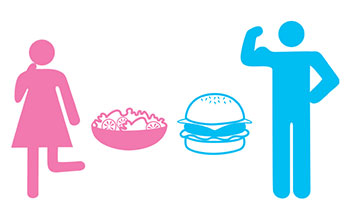 ACCORDING to cliché, real men refuse to eat quiche and then tuck into steak and chips, while women load their plates with salads and steamed fish. But does gender really govern food choice and does masculine machismo mean that males are culturally conditioned to adopt an unhealthier diet? A research project conducted by students and their lecturer at the University of Huddersfield aims to find out if there are male foods and female foods and to analyse the implications for nutrition and health.
The project is named Food for thought and an online survey is underway. Anyone who is a UK resident and aged over 16 can visit the web survey and answer a sequence of questions that have been devised to discover male and female attitudes to diet and if there are foods regarded as quintessentially male or female.
It is hoped that the survey will be completed by hundreds of participants, so that the researchers will have large amounts of data to digest. The project is overseen by Senior Lecturer Dr Jane Bradbury, a nutritionist whose specialist interests include the relationship between psychology and nutrition.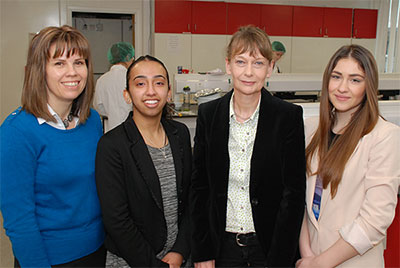 Pictured left: Undergraduates Katie Speirs (far left), Anila Farooq (second left) and Mariana Dineva (far right) with Senior Lecturer Dr Jane Bradbury.
Three undergraduates taking their degrees in nutrition and public health are working on the research – Katie Speirs, Anila Farooq and Mariana Dineva. In addition to the online survey, the trio are also conducting focus groups with men in order to learn how they choose what they eat.
"Although we know anecdotally what are 'men's foods' and what are 'women's', there is little research into whether the male foods tend to be the unhealthy ones and the healthy foods to be female," said Dr Bradbury.
"If men do eat less healthily than women, are we saying that they should eat like a woman? Our project is about trying to unpick these attitudes and find out what's going on psychologically."
It is planned that the survey will be completed within the next few months. When Dr Bradbury and her student team have analysed their research, the findings will be released in an academic article.
‌Bias against the obese
Dr Bradbury has also been addressing the issue of public attitudes towards obesity, and has recently delivered a public lecture on the subject. She describes bias against the obese as "the last socially acceptable prejudice".
"It is a social group that we feel we can make comments about because we can blame them for the problem. But losing weight is incredibly difficult," she said.
"It is unfair to demonise obese people and also completely counter-productive. Research shows that people who have negative stereotypes about themselves – when they read that they are lazy and have no self-control – are then more likely to show symptoms of disordered eating. Their response can be to cope by binge-eating.
Obesity is an issue that should be addressed, said Dr Bradbury, but not by stigmatising overweight people. "It doesn't motivate them to lose weight."