Postgrad's new business brings the human touch to IT solutions
Tue, 24 Feb 2015 14:22:00 GMT
Mark Pullar's growing enterprise All My Systems adopts the socio-technical approach to benefit its clients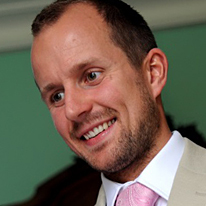 MARK Pullar (pictured right) is a computer expert, but when he is hired to appraise and improve a business he pays as much attention to its people as he does to its IT systems. He is the founder of a new consultancy that has rapidly made itself distinctive by adopting what is known as the "socio-technical" approach. It has been shaped by his own varied background, including a senior role and postgraduate study at the University of Huddersfield.
He is the founder of a consultancy named All My Systems and has a growing list of clients in the North of England.
"We are an information systems consultancy and we go to companies and solve complex issues – both electronic processes and people-based functions," he explained.
Quite often, his recommendations result in a new IT system... but they could involve changes to the management structure. It is a philosophy that places equal emphasis on both human and technological factors. Mark sums it up using the acronym ETHICS – the Effective Technical and Human Implementation of Computer Systems.
"Typically, an IT provider will implement an IT solution without always taking into account the end-users of the system or involving them in process," added Mark. "The socio-technical approach – which is something I studied in my Master's degree at Huddersfield – means involving all stakeholders in the decision-making process."
‌Complementary skills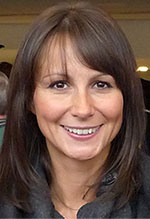 All My Systems started from scratch in April 2014, concentrating on micro businesses to begin with but is now landing larger clients, such as a leading services provider.
The consultancy is a partnership between Mark and his wife, Briony Heyhoe-Pullar (pictured left). Also, a former University of Huddersfield employee – as acquisitions manager in the Library – Briony focusses on elements such as marketing, customer experience and the troubleshooting of management systems.
Mark adds technical computer expertise to the mix. "Our skills really complement each other," he said.
His first degree was in physics – a subject that equipped him for a varied career as a problem-solver, said Mark – and he then spent ten years at the University of Huddersfield, becoming payroll manager for an organisation with 2,000 employees and a multi-million pound turnover. He also took on responsibility for University information systems, a subject that he studied for in the Master's degree that he passed with distinction while an employee of the university.
After a spell in private enterprise, working for a Nottingham-based HR software supplier, he decided that the time was right to strike out on his own, putting into practice some of the principles he had absorbed during his postgraduate studies. There have been no regrets.
"Operating a small business was completely new to me, so I really was starting from scratch! But it is the best thing I have ever done. It has used every skillset I have built up over the years."

‌Access to expertise
All My Systems gained invaluable access to expertise from the business advisers within the University's Enterprise Team based in the Duke of York Young Entrepreneur Centre.
Mark is convinced that his brand of consultancy can pay wider economic dividends.
"We are helping businesses grow and when they do that there is a premium because it means more people spending money, which is good for the economy, but also businesses will typically need to employ more staff. So consultancy provides a strong foundation for bringing in more employment and prosperity to the region."