Police and lawyers queuing up for Uni's forensic podiatry expert
Wed, 11 Feb 2015 12:22:00 GMT
"...more crime scene investigators are now seeking evidence from footprints, wear and tear on footwear and even people's walking pattern to solve a crime..."

CRIME scene investigators have a toolbox that includes DNA analysis and fingerprinting. But they can also gain valuable identification evidence from footprints, from the wear and tear on shoes and boots plus the subtle differences in people's walking patterns. For this, they must turn to the increasingly important field of forensic podiatry – and the University of Huddersfield is now offering the world's first and only postgraduate degree in the subject.
The part-time MSc course – which is a development from an earlier postgraduate diploma – has now been launched and is attended by a first cohort of graduate podiatrists who aim to add to their expertise with specialist knowledge of a discipline that investigators are relying on with increasing frequency.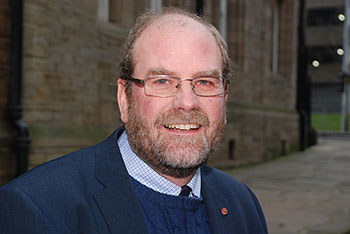 ‌The University of Huddersfield's Professor Wesley Vernon – who leads the course – is one of the world's leading forensic podiatrists and one of a small number of experts in the field who are registered by the National Crime Agency in the UK. He is regularly consulted by investigators in Europe, Australia and the USA and has lectured on this subject in China, Australasia and the US.
There is mounting awareness of the value of forensic podiatry, he says.
"In the mid-1990s I was getting maybe one or two cases a year. Now I am getting requests for assistance most weeks, so it has increased quite dramatically," said Professor Vernon, whose expertise is sought not only by police forces, but also by defence law teams.
Crime scene podiatry
He defines forensic podiatry as 'the use of a podiatrist's knowledge principally for the purposes of identification of humans'. The discipline has four broad areas. They include the use of podiatrists' records for identification, the analysis of bare footprints at the scenes of crime and examination of the "wear features" of shoes.
"There might be shoeprints at the scene of crime. The police have a suspect and can match the shoes to the crime scene, but the suspect might say 'yes I know you got that shoe from my house, but it's not mine'," said Professor Vernon. "DNA often fails or may not be helpful in these circumstances, but we can use the wear features of shoes to assist in the process of identification."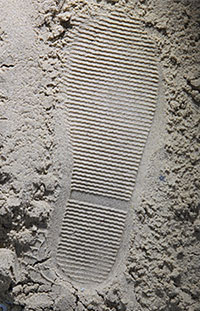 The fourth area is known as Forensic Gait Analysis, which now accounts for as much as 90 per cent of Professor Vernon's investigative work. It requires a podiatrist to examine footage – perhaps from a security camera – in order to analyse the walking pattern of a suspect who might otherwise be unidentifiable, if he or she is wearing a hood for example. By comparing it with film – possibly acquired covertly by the police – in which the identity of the subject is incontrovertible, an expert can assist in the identification of the perpetrator.
A science-based approach
There is an increasingly strong research base for forensic podiatry and much of it has been contributed by Professor Vernon himself. But the courts have accepted that experience is acceptable as the basis for a forensic podiatrist's expert testimony.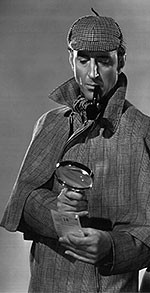 "The skill is to combine both an experience and a science-based approach," said Professor Vernon, who has carried out footprint and footwear analysis in some complex murder cases. His early ambition, while at school in the 1970s, was to become a pathologist, and he even landed work experience in a mortuary. But he went on to study podiatry and while doing so he began to realise that many aspects of a podiatrist's work could be useful in the field of human identification.
"I started doing research studies of value to forensic podiatry. People took notice and the case work started."
‌Sherlock Holmes
Pictured left is actor Basil Rathbone as Sherlock Holmes.
In addition to his University of Huddersfield post, Professor Vernon is Head of Podiatry Services at Sheffield Teaching Hospitals NHS Foundation Trust, although he estimates that 60 per cent of his time is devoted to forensic work and teaching.
And his ongoing research includes an intriguing investigation into the strange case of Sherlock Holmes, Forensic Podiatrist. For a review article, Professor Vernon is analysing the great detective's uses of footprint evidence, deciding where he got it right and where he blundered.
"Was Sherlock Holmes an expert or a charlatan? He certainly made some fairly basic mistakes as far as forensic podiatry is concerned!"