Huddersfield in top five of Best Workplace Survey 2015 in country
Fri, 06 Feb 2015 12:16:00 GMT
The University of Huddersfield figures in the top five of three of the four key categories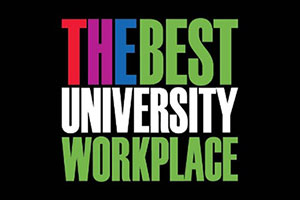 ‌THE University of Huddersfield has been confirmed as one of the top academic workplaces in the UK, figuring in the top five of several key categories in a league table published by the sector's leading journal.
Times Higher Education has published the findings of its Best University Workplace Survey, compiled after it canvassed the opinions of 4,174 higher education employees during late 2014. There was a roster of 35 questions, to which respondents were invited to agree or disagree online. This is the second year that the survey has taken place.
In "the leadership of my university is performing well", Huddersfield came in at second place, with 74 per cent agreement among staff. The University also scored top five placings in "I would recommend working at my university to others" (78 per cent) and "My university offers a fair deal to its employees in terms of working conditions and benefits" (78 per cent).
The current edition of the Times Higher Education magazine includes a detailed analysis of the survey.
Editor John Gill comments that "the results of the second THE Best University Workplace Survey give a fascinating snapshot of the reality of working life in our universities, with employees of 136 universities participating, including academics and administrative staff at all levels".
The Vice-Chancellor of the University of Huddersfield, Professor Bob Cryan, is delighted by the fact that the institution has done well in the key categories of the survey for the second year running. "As a University, we are only as good as our staff, and it is vital that we provide a positive workplace experience so that we recruit, retain and enthuse the very best people. To score so highly once again demonstrates that Huddersfield continues to be a university that staff are pleased to be part of," he said.