Heritage Quay hosts Rugby League Challenge Cup draw
Wed, 18 Feb 2015 11:58:00 GMT
Rugby League legends Alex Murphy and Malcolm Reilly conduct the third round draw

WHEN two superstars of rugby league came to a special event at the University of Huddersfield, they also revisited their legendary past in the game.
Alex Murphy and Malcolm Reilly were invited to conduct the third round draw of the Rugby League Challenge Cup and the event took place in the University's Heritage Quay archive centre, where an exhibition devoted to the history of the sport is currently on display.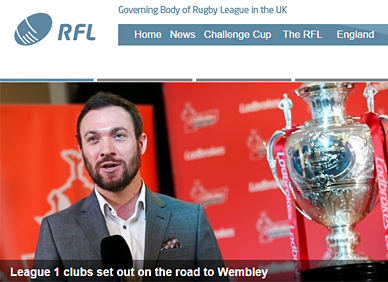 The two ex-players and coaches – who have six Challenge Cup winners' medals between them – scanned the exhibition and saw material that included a photograph of Mal Reilly – famous as a tough, ball-playing forward – being awarded the 1977 Division 1 Player of the Year title, and a 1964 St Helen's testimonial booklet titled Alexander the Great, a tribute to Alex Murphy, universally regarded as one of the best-ever half backs.
Also on display at Heritage Quay is the ball used in a famous 1958 test match in which an injury-ravaged Great Britain beat the Australians. Alex Murphy was a star of the side and he told the audience at the cup draw that the ball brought back vivid memories of the epic encounter.
The third round draw matched top amateur sides against the 14 professional Kingstone Press League 1 teams that now enter the cup. Choice ties that emerged include Barrow Raider versus Keighley Cougars, Oulton Raiders versus Normanton Knights and Leigh Miners Rangers versus West Hull.
The draw – hosted by the BBC's George Riley from Heritage Quay – was specially filmed and can be seen online.
Alex Murphy and Mal Reilly gave their reaction to the draw and also provided the audience with their most vivid Challenge Cup memories, such as walking out to a near 100,000 crowd at Wembley.
"It makes the hairs on the back of your neck stand up and makes you feel 10 feet tall," said Mal Reilly.
The University of Huddersfield's Heritage Quay – a unique and highly accessible new archive centre – is home to the official archives of the Rugby Football League, plus a wide range of other material charting the history of a game that was born in Huddersfield in 1895.
For more details of the current exhibition, visit http://www.hud.ac.uk/news/2015/february/rugbyleaguememorabiliaexhibitionopensatheritagequay.php.