Graduate paves way for the Uni to help Kenyan youngsters
Mon, 09 Feb 2015 14:43:00 GMT
Slovakian postgraduate Ivana Ulicna helps Pontis Foundation bring enterprise and entrepreneurship to Kenyan high schools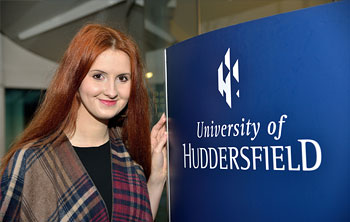 AFTER her studies at the University of Huddersfield, Slovakian student Ivana Ulicna (pictured right) headed for Kenya, where she had been awarded a voluntary internship with an innovative educational project. Now she has landed a full-time post with one of the organisations playing a central role in the scheme and she has paid a return visit to her ex-university in order to discuss the possibility of current business students and lecturers making contributions via the web and on the ground.
Ivana – who obtained a BSc and a Master's degree at Huddersfield – has long been passionate about international development. So she describes her new job as a Project Co-ordinator for the Pontis Foundation, a long-established Slovakian NGO, as a "dream fulfilled". It came after she completed her six-month internship with a project named Sote ICT that introduces rural secondary schools in Kenya to computer and information technology and shows how it can be harnessed to entrepreneurship and business skills.
ICT Clubs have been formed at 10 secondary schools and they have been attended by hundreds of students. A substantial number of training companies – enabling young people to gain practical experience of business "and by learning from mistakes" – have also been established. The overall goal is to reduce youth unemployment in Kenya, where jobs for young people are scarce.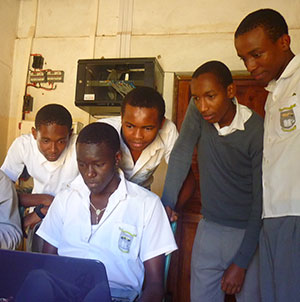 Ivana said that challenges facing the Sote ICT programme include the fact that traditional Kenyan education tends to concentrate on rote learning rather than critical thinking and practical skills. Also, only a very small proportion of secondary school students are able to gain a university place.
By introducing technology such as computers and audio visual aids, it is hoped to improve student exam results and raise the likelihood of reaching university. Also, when students join ICT clubs they learn practical skills that boost their employability. But the element that Ivana thinks is the most useful focuses on the support of entrepreneurship through education, for Sote ICT is about to start supporting the real small businesses of young graduates by mentoring and further training on soft and hard skills.
"In real-life business, you learn by making mistakes, but each costs you money. The training companies enable the students to test their ideas and make mistakes in a secure environment without financial risks. Still, the feedback they get from the public is real, as they often go into communities and introduce their products and services there. This allows the students to get experience in marketing, customer relations, production, management and many more and hence prepares them for running their own businesses in the future."
Pontis Foundation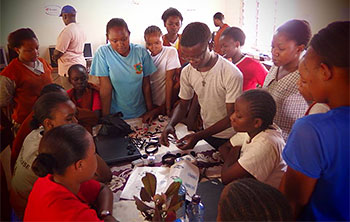 Ivana – now that she has a full-time post with the Pontis Foundation – is based in her native Slovakia, although she still pays regular return visits to Kenya.
It is a mission that brought her back to the University of Huddersfield, where she achieved First Class Honours in Criminology with International Politics before moving on to a research-based Master's in politics. During this period, she won a competition that awarded her a fascinating three-week internship in Vienna, as an assistant to the Slovakian delegate to the United Nations and OSCE (Organisation for Security and Co-operation in Europe).
Her proposal now is that current Huddersfield business students could act as mentors to training companies in Kenya by conducting webinars dealing with topics such as marketing, customer relations and financial management. Also, students could use internet-based communication to give support and advice to individual companies.
There might also be opportunities for Huddersfield students to gain overseas experience of project management with placements with the Pontis Foundation in Bratislava, and for lecturers to train Kenyan teachers.
"We strongly believe that students in Kenya would benefit greatly from co-operation with highly-motivated young people at the University of Huddersfield," states Ivana. "Also, the Huddersfield students would improve their intercultural communication skills and have an opportunity to use their knowledge to contribute to a positive change in lives of Kenyan students. "
Professor John Anchor is Head of the Department of Strategy, Marketing and Economics within the University's Business School. He said: "It is early days yet, but I believe that there is great potential for co-operation between the Pontis Foundation and the Business School. In particular, I foresee the possibility of some of our students, who are studying Corporate Social Responsibility, getting involved in projects in Kenya in order to help the local businesses to develop. In addition, some other initiatives may help us to fulfil our objectives as a signatory to the United Nations' Principles of Responsible Management Education (PRME)."