Decentralisation and the Future of Yorkshire
Mon, 16 Feb 2015 13:39:00 GMT
University leads symposium on whether and how Yorkshire should have its own devolved powers
In the video, Ed Cox who delivered the keynote address, gives his views on the possibilities of devolution for Yorkshire.
AN event at the University of Huddersfield – attended by leading figures from the worlds of politics, business and academic research – has been hailed as a milestone in the journey towards English regional devolution.
It was a day-long symposium entitled "Decentralisation and the future of Yorkshire" and was opened by the University's Deputy Vice-Chancellor Professor Peter Slee. The keynote address was delivered by Ed Cox, who is director of the think tank IPPR North and he described the event as "important and remarkable", adding that "20 years from now, everybody will claim to have been here!"
One of the main contributors to the symposium was Paul Salveson, a Visiting Professor at the University of Huddersfield and due to stand as a Parliamentary candidate for the new political party Yorkshire First. "This has been a fantastic event, which has taken the debate forward," he said. "Space has been opened up for a progressive regionalism."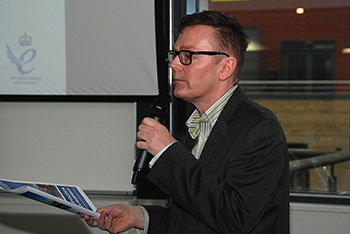 The symposium was organised by University of Huddersfield politics lecturers Dr Andrew Mycock (pictured right), Dr Arianna Giovannini, Dr Catherine McGlynn and Dr Shaun McDaid. Dr Mycock wrapped up the day by stating that "this is the beginning of a long conversation that might take decades". There was a pledge to hold further conferences on regional devolution, and the proceedings of the first one would be edited for publication.
Various social, political, economic and cultural aspects of English regional devolution – with an emphasis on Yorkshire – were discussed by the guest speakers and by questioners from the large audience. The backdrop to the debate was the Scottish independence referendum, the continued impact of the SNP and the extra powers that are being devolved to Scotland from Westminster.
Keynote speaker Ed Cox said that there was no prospect of a comparable "big bang moment" for the English regions but he added that "there is now a groundswell of opinion, not least in the North, not least in Yorkshire, that looks at Scotland and says, 'we want some of that too!'"
Mr Cox said that one of the objectives of English regional devolution would be to achieve economic growth to address imbalances between the North and South. Also, the development of city regions would help to fix "broken" public services and there would be a revival in democracy.

"Devolved government brings politics closer to the people by pushing power downwards," he said.
Mr Cox also listed some of the obstacles to regional devolution, such as apparent lack of public appetite for the process, the rise of UKIP and the danger that an emphasis on city regions could lead to asymmetry. Connectivity was just as important as agglomeration because there could be extreme inequalities between cities, he said, adding that some of the fastest growth was actually occurring outside of big urban areas.
Mr Cox called a for a "rainbow coalition" in the North so that a consensus could emerge on devolution. "We are clear about what we don't like but it is less clear what we do want. We need to get ourselves organised and that is why this event is important as a vital first step."
Mr Cox lent his support to a Northern Constitutional Convention that would "bring about a big Northern conversation. It needs to be about the things that matter to people, such as geographical identity, tax, public service and jobs".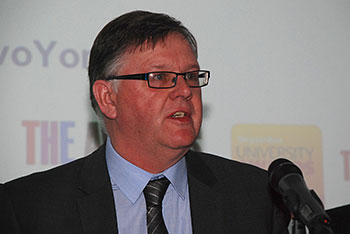 After Ed Cox's keynote address, BBC Look North journalist Len Tingle (pictured left) chaired a panel with the Yorkshire MPs Barry Sheerman (Lab, Huddersfield), Jason McCartney (Con, Colne Valley) and Andrew Percy (Con, Brigg and Goole). They are members of an All-Party Parliamentary Group that has been discussing regional devolution for Yorkshire and North Lincolnshire and which has just issued its first manifesto.
The group – the only one tackling issues across Yorkshire, said Mr Sheerman - has concentrated on issues such as transport, skills and support for business. The three MPs had differing views on the emphasis being placed on city regions. "We can't be too focussed on cities," said Mr Percy. "We can't replace London centrism with a West Riding-centric economy." But Mr McCartney reported that the Leeds City Region was making a major impact on the economy of his Colne Valley constituency.
Mr Sheerman lent his support to the proposed constitutional convention and added that he was convinced that there is now a groundswell of support for English devolution.
‌A panel chaired by the University of Huddersfield's Professor Brendan Evans introduced work on issues such as decentralisation and regional identities that has been carried out by academic researchers at a number of universities.
For example, Huddersfield's Dr Arianna Giovannini has investigated the 2004 verdict by voters in the North East, who decisively rejected a regional assembly. This had led to a claim that English regionalism was "the dog that never barked and never will bark", but when she dug deeper she identified a number of reasons for the failure of the campaign, which was led by an elite group of intellectuals, whose highbrow message – imposed from London - made no impact on voters.
Dr Giovannini believes that there is potential support for an assembly in Yorkshire, but campaigners would need to address both the regional economy and democratic aspects of devolution.
In the video, the former Chairman of the regional development agency Yorkshire Forward Terry Hodgkinson, who also attended the symposium, gives his views on the possibilities for devolution for Yorkshire.
The University of Huddersfield's Dr Pete Woodcock described his project to survey and compare the attitudes of people in Cornwall and Yorkshire to their identities and to the prospect of regional assemblies. He used a set of questions that allowed respondents to provide a nuanced description of their identities. Findings included the fact that people in Cornwall were much more likely to give priority to their sense of Cornishness than respondents in Yorkshire, who were much readier to define themselves as being both English and Yorkshire.
However an almost identical and high proportion of people from both regions were also prepared to describe themselves as British and the numbers who said they backed devolution were also virtually identical (76 per cent in Yorkshire and 77.2 per cent in Cornwall).
A session dealing with the political economy of decentralisation and its implications for Yorkshire had contributions from James Newman, who chairs the Sheffield City region Local Enterprise Partnership Board; John Huddleston, Assistant Regional Director for the CBI; Councillor David Sheard, the leader of Kirklees Council; plus Professor Jeff Henderson of the University of Bristol.
Mr Newman stated that economic growth would come from the private sector, which would expect to have an influence on public expenditure. Mr Huddleston said that business was looking for certainty and asked how a level playing field could be created after devolution. Councillor Sheard lambasted Westminster-based government and said that for the North to survive it had to get powers away from London. Professor Henderson also attacked the "gross over concentration of political and cultural power" in London and called for a federal England and a process of "re-industrialisation", plus a written constitution for a post-devolution state.
Dr Mycock chaired the final session, which debated the future of decentralisation in Yorkshire. Contributors included Vicky Seddon, of Unlock Democracy, Louise McGough of the Centre for Cities and Professor Paul Salveson, of Yorkshire First. He said that when this party stood for a number of seats in the imminent general election, he hoped for a respectable vote that would drive the debate.
"Scotland broke the mould and we have seen an unstoppable move to devolution, "he said. "Now my dream is of a federal Britain".
Whilst the event was being held BBC Radio Leeds were talking about devolution on their monthly politics programme 'On the Agenda'. Reporter Peg Alexander interviewed Dr Andy Mycock and two politics students live from the University. Listen to the full programme here.