Community conservation project – a sustainable and fairer system
Wed, 18 Feb 2015 12:03:00 GMT
Researchers help Ethiopian's wild coffee trade to sustain both livelihoods and the environment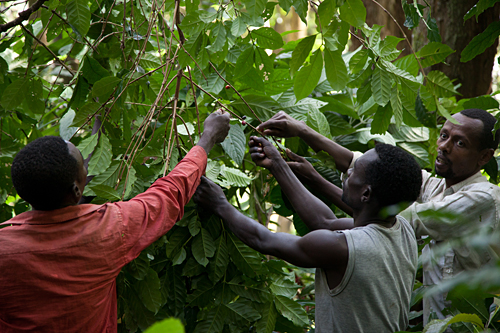 ACCORDING to legend, coffee was discovered more than 1,000 years ago, in Ethiopia. The plant still grows wild in the forests of the south west of that country and now a team from the University of Huddersfield is leading an international project to ensure that coffee continues to make a major economic, social and environmental contribution to the region and its people. Also, connoisseurs in the UK could soon find it easier to sample wild coffee beans that first gave the world its taste for the beverage.
The key to the project is that communities in the highlands of South West Ethiopia – sometimes dubbed "Green Ethiopia" – are empowered to earn a livelihood by harvesting the coffea arabica bean in the wild, without disturbing the natural environment. This means that these rainforests will continue to play their crucial role in the eco-balance of the Nile basin and retain their importance to the global climate, as absorbers of carbon.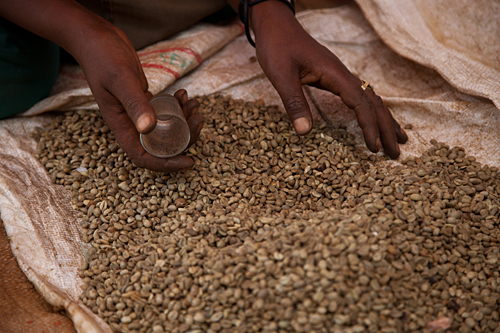 Adrian Wood (pictured below) is Professor of Sustainability at the University of Huddersfield and is director of its Centre for Sustainable and Resilient Communities. He has been researching and working in Ethiopia for several decades and has been a pioneer of a process known as Participatory Forest Management (PFM). Under this, village communities are given legal rights over their portion of the forest, enabling them to make their living from its natural resources, including wild coffee. In return, they must undertake to maintain the natural forest environment and ensure sustainable use.
Professor Wood says that that the approach is an unusual one, because it means that communities take the conservation initiative, rather than being led by the government. "Rather than top down, we are bottom up, and therefore it is a more sustainable and fairer system."
Managing the natural forest environment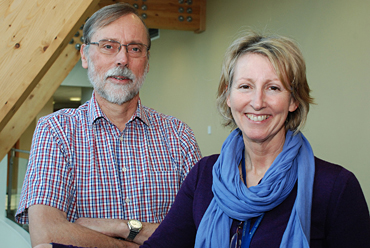 The project, named Wild Coffee Conservation by Participatory Forest Management, has received funding of 2.4 million euros from the EU. It began in 2010, is due to conclude in 2016, and is led by Professor Wood and his colleagues in tandem with an Ethiopian partner and a Dutch organisation named Sustainable Livelihood Action. Under the aegis of the overall scheme, the UK government-backed Darwin Initiative has also provided almost £250,000 for specific technical support, especially for bio-diversity monitoring and contributions to Ethiopian government policy.
The Huddersfield team makes regular visits to SW Ethiopia, where they work with the Ethiopian Wetland Natural Resources Association, established in 2000 as part of an earlier action-research project conducted by Professor Wood.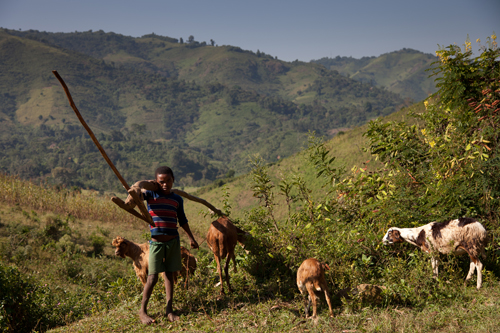 University of Huddersfield contributors to the wild coffee PFM project, include Dr Julia Meaton (pictured below left), who is course leader for the MSc in Risk, Disaster and Environmental Management, and international development specialist Fiona Hesselden (pictured above with Professor Adrian Wood) – an ex-Master's student of Dr Meaton – who has worked for UNICEF and MAG – the landmines clearance organisation.

She said that the threats to the Ethiopian rainforests included population growth and investors who turn the forest into farmland and alter the ecology. Concentrations of wild forest coffee through transplanting has led to belt of coffee forest where risks of disease and pests are high. Hence it is vital to retain wild coffee plants at low densities in the natural forest where they can evolve in response to climate change and other challenges.
Now, communities are being given the opportunities to manage the natural forest environment. The PFM project has worked with 40 communities, covering some 20,000 hectares. But is important not to just create a "museum". The villagers must be able to earn a living from their forest and a key priority is to establish a marketing chain for wild coffee and other products from the natural forest. Talks have been held with a London-based importer and coffee roaster in order to set this in motion, while honey chain links to UK buyers are being developed.
The wild coffea arabica would be sold at a premium price – and this would include a "social premium", said Fiona Hesselden. "Purchasers would not only be showing their interest in the coffee, they would also be helping to sustain Ethiopia's natural forest and its ecological wealth."