MBE for University Director of Estates
Wed, 30 Dec 2015 22:33:00 GMT
‌The University's Director of Estates and Facilities Colin Blair has been awarded an MBE in the New Year's Honours List
► Colin Blair (centre) with the University's Chancellor, HRH The Duke of York, KG, (left) and Vice-Chancellor, Professor Bob Cryan CBE (right)
THE University of Huddersfield's Director of Estates and Facilities, Colin Blair, has been awarded an MBE in the New Year's Honours List. It recognises his central role in ensuring that the University has one of the UK's highest-quality campuses, with a continual programme of development.
Mr Blair has presided over an ambitious £100 million building schedule, and a new £200 million investment phase is underway. But this has been achieved without the need to borrow money, so that the University of Huddersfield is debt-free.
In March 2015, Mr Blair was named winner of the Award for Long-Term Contribution at the inaugural AUDE (Association of Directors of Estates) Awards.
"Now, less than a year later, I am deeply honoured to receive an MBE and I regard it as tribute to the dedicated and talented team in our Estates and Facilities department," said Mr Blair.
Colin Blair began his career as a project engineer in the private sector before, in 1983, he joined Kirklees Council in Huddersfield as head of property maintenance. After six years, he was appointed Senior Building Services Engineer at the University – and in 1998, Mr Blair became Director of Estates and Facilities.
During his period in charge, the number of campus buildings that are highly rated by the Royal Institute of Chartered Surveyors has risen dramatically, placing University within the top ten nationally.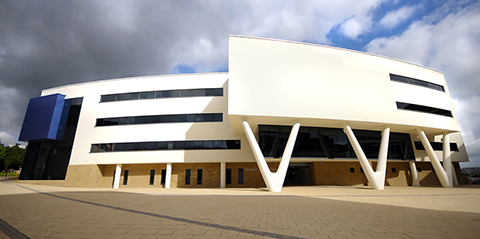 There has been a steady sequence of architecturally and technologically innovative new structures, such as a Creative Arts Building (pictured), a new Business School, the 3M Buckley Innovation Centre and most recently, a new £22.5 million Student Central. Well underway is a £27.5 million building that will be a new home for the Law School and the School of Music, Humanities and Media and a prominent town centre landmark.
In addition, the University has been widely praised for its adaptation of historic properties that include canalside Victorian mills. The campus has one of the largest percentages of listed buildings of any Higher Education institution, presenting Mr Blair and his team with a wide variety of maintenance challenges and responsibilities.
Colin Blair is a Chartered Engineer and has an MSc (Distinction) in Facilities Management. He served for eight years on the National Executive Committee of the Association of University Directors of Estates and served as the organisation's treasurer and chaired its North East Region.
The Vice-Chancellor of the University of Huddersfield, Professor Bob Cryan CBE DL, said that he was delighted by Mr Blair's new honour.
"Colin has been a dedicated and inspirational colleague and played a very important part in the great progress we have made as a university, recognised by recent awards such as our University of the Year title. But neither Colin, nor the University, will rest on their laurels. There are even more exciting times ahead!"