Top soprano Dame Emma Kirkby to perform with music students
Thu, 02 Apr 2015 14:18:00 BST
The celebrated early music singer will perform English Lute Songs from the Golden Age at a mini-festival that explores "performance styles of the past"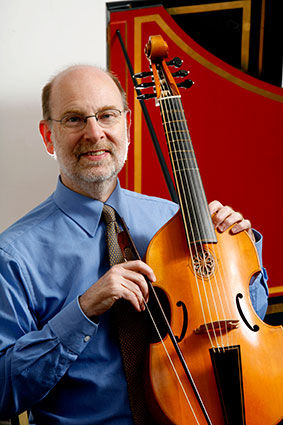 A GROUP of University of Huddersfield music students have been given the chance to work and perform with one of the world's leading singers. It comes as part of a new mini-festival that explores the performance styles of the past.
The event – taking place at the University between April 23rd and 25th – is named HIP Happening in Huddersfield and one of the headline performers is the soprano Emma Kirkby, globally famous for her interpretation of song from the Elizabethan era and the Baroque epoch.
When she offered the University a programme named English Lute Songs from the Golden Age – which explores the music of composers such as John Dowland – Emma Kirkby said that she wished to work with a group of student singers and include them in her concert.
"I thought that was a really generous offer," said John Bryan (pictured right), Professor of Music at the University, who, as an instrumentalist, has himself frequently performed with Emma Kirkby. He has selected students from the University's chamber choir who will work with the singer and her lute player Jacob Heringman when she comes to Huddersfield on Thursday, 23 April.
Historically Informed Performance
The HIP Happening takes its name from the acronym for Historically Informed Performance, which is an important strand of research and teaching at the University's Music Department.
It is home to a Centre for Performance Research (HuCPerR), directed by violinist Dr David Milsom, which includes a number of specialist musicologists and performers who investigate and recreate the styles of the past, either using replicas of historic instruments or adapting their playing techniques in the light of research.
The ensemble Four's Company – composed of HuCPerR members – begins the HIP Happening on Thursday 23 April (1.15 pm), with a concert of music from the 17th- 18th century courts of French kings Louis XIV and XV, played on violins, keyboard and bass viol.
The three-day festival has seven concerts, taking place in St Paul's Hall or the Phipps Hall at the University.
There is renaissance, baroque, classical and early romantic music from England and the Continent performed by a variety of ensembles and soloists.
The full roster of concerts is...
Thursday 23 April

1.15pm in the St Paul's Hall – Four's Company
7.30pm in the St Paul's Hall – Emma Kirkby and Jacob Heringman

Friday 24 April

11.15am in the Phipps Hall – Penelope Cave, harpsichord
1.15pm in the Phipps Hall – Thomas Moore, organ (pictured right)
4.15pm in the Phipps Hall – Andrew Brownell, Clementi square piano
7.30pm in the St Paul's Hall – The Meiningen Ensemble, piano trios

Saturday 25 April

7.30pm in the St Paul's Hall – University Chamber Choir, Early Music Ensemble and Baroque Orchestra
The HIP Happening is sponsored by the Early Music Shop. For more information and ticket details, visit the festival website.
Back to news index - April