Trio's commission creates a cosmic journey for IOU Theatre
Fri, 26 Sep 2014 13:00:00 BST
A Huddersfield drama lecturer, a composer and music technologist combine their talents to create Borderlands for innovative performance company IOU Theatre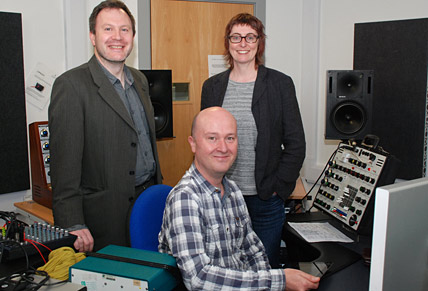 Pictured (l-r) Professor Monty Adkins, Dr Ian Gibson and Dr Deborah Middleton
VISITORS to a giant "sound and vision laboratory" have been able to embark on a cosmic journey in words and music, thanks to a unique collaboration between the University of Huddersfield and one of Europe's most innovative performance companies.
The installation resulting from the partnership is named Totum-One and it was premiered at Junction, an award-winning arts centre in Goole. The organisation IOU – which has been a pioneer in theatre, performance and arts installation for almost 40 years – erected a large, inflatable igloo-like structure in which audiences were seated in deckchairs and, via headphones, were immersed in a 30-minute words-and-music composition named Borderlands (pictured below left).
It was composed as a sequence for solo cello by the University of Huddersfield's Professor Monty Adkins, and the music was closely integrated with a text by drama lecturer Dr Deborah Middleton.
Dr Ian Gbson, who is a Senior Lecturer in Music Technology, produced two pieces for Totum-One – CosMix and, in collaboration with Professor Adkins and Dr Middleton, Borderlands CosMixed.
CosMix furnished visitors with tablet computers so that they could send a graphical satellite on a journey between 3-D "planets", each of which emitted a soundscape – for example, the sound of streams and running water. Visitors could draw the path of the satellite using the tablet.
Borderlands CosMixed" took the words and music of Borderlands to produce a piece that enabled visitors to Totum-One to interact with the work in a similar fashion to CosMix. Users could plot their own journey around this virtual cosmos, so that they produced their own unique versions of the original composition. The tablet software was developed by postgraduate student Anton Jidkov – supervised by Dr Gibson.
Future plans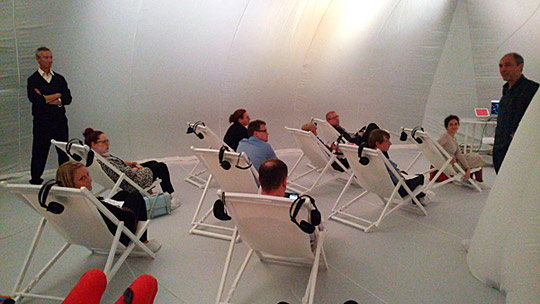 Totum-One has now completed its premiere run at Junction, where primary age schoolchildren were among the visitors who enthusiastically immersed themselves in the words and music and followed this with the interactive experience. After this successful debut, there are plans to take the work on tour.
There are also discussions about developing Borderlands as an ebook, combining sound and graphics. The soloist who recorded Professor Adkins's music, composed as seven sections, each consisting of 28 musical fragments, was the cellist William Mace.
Dr Middleton – who scripted Borderlands under the pen name Deborah Templeton – explained that the seven-stanza text explored ideas of consciousness and reality.
"There is a linear progression through Borderlands, but it is fairly fragmentary in nature. It evokes the kind of hypnagogic state where you are falling asleep and things are shifting in your mind," she said.

The University of Huddersfield has a track record of collaboration with IOU, which is based in Halifax. Tim Moss, who is a lecturer in the University's Drama department, is an IOU board member and he is currently working with Dr Middleton on a journal article about the innovative company.
Dr Gibson too is planning further work with IOU, including a project that will allow the audience to interact using GPS technology.
Back to news index - September